These Students Are Taking a Bold Stand and Refusing to Pay Their College Loans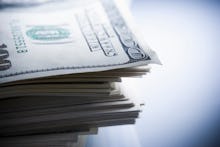 Latonya Suggs wanted a better life.
In 2012, she was 25 years old and working temp job after temp job in Cincinnati. Suggs desired a career, so she got in touch with recruiters from Everest College and discussed her options. The recruiters told her about a two-year associate's degree in criminal justice, one that they assured her would land her a job as a probations officer. Suggs enrolled in an online program and completed her coursework easily, she told Mic. She was the first member of her immediate family to earn a degree.
Things took a turn in 2014. She had trouble getting help from Everest's career services, and after graduating in the fall, she wasn't able to find a job as a probations officer, or any other position in her field. Instead, she worked as a housekeeper to pay her bills, which had grown significantly since she graduated — she accumulated more than $30,000 in debt over two years while pursuing her degree. Today, she's unemployed.
Being unemployed with steep debt isn't unique for young graduates in the United States, but Suggs' case is different. Just before graduating, she learned that Everest was part of a large network of fraudulent for-profit colleges that was being dismantled by the federal government. So she decided to make a bold move: She wasn't going to pay back her student loans.
"Two years of my life are gone. I can't get that back."
Worse off than before: A few months before finishing her program, Suggs learned that Corinthian Colleges Inc., the for-profit operator of Everest College and a number of other colleges across the country, was being forced by the Department of Education to either sell off or shut down all of its campuses across the country. The company was being sued by the federal Consumer Financial Protection Bureau for running schools that were advertising "bogus job prospects and career services," overseeing a "predatory lending scheme" and "strong-arm[ing]" students with illegal debt collection tactics," according to the CFPB. The bureau's investigation found that the company's tactics included "creating fictitious employers" to generate its statistics and relying on Craigslist for directing students to jobs. (Corinthian Colleges did not respond to Mic's request for comment.)
As Corinthian has been systematically dismantled, it's been forced to forgive some private student loans it lured students into taking. But so far the federal government has taken no measures to address the federal student loans taken out by Corinthian students, which Inside Higher Ed estimates to be more than half a billion dollars.
This leaves former students like Suggs — who says she has $32,000 in federal loans, but is unclear about how much, if any, private student loan debt she has — out in the cold. She has a degree that's not considered credible by employers, nor easily transferred to other higher education institutions, yet she can't discharge her debt.
"I am worse off than when I joined," Suggs said in an interview. "I didn't have debt before, and now I have to struggle to pay these loans back. I was scammed. Two years of my life are gone. I can't get that back."
She knew she wasn't going to get the time back, but determined it was worth fighting for the money.
The Corinthian 15: Suggs discovered she wasn't alone in her outrage. Online, she found other students who wanted to do something about the unfair debt they had been burdened with. Eventually, she came into contact with Strike Debt, a group with origins in Occupy Wall Street that organizes various initiatives to discharge onerous debt.
In 2014, Strike Debt garnered significant attention with a remarkable campaign called the Rolling Jubilee. They solicited donations and used the funds to purchase delinquent student debt from lenders at discounted prices. Instead of collecting on the debt, they canceled it. In September, they announced that they abolished nearly $4 million in delinquent student loans from Everest College.
This time, they've helped organize something more confrontational. Suggs is one of 15 former students of Corinthian-owned schools called "the Corinthian 15" who are engaging in what they say is the nation's first student debt strike. They're refusing to pay back both their private and their federal student loans.
"Corinthian's predatory empire pushed hundreds of thousands into a debt trap," the Corinthian 15 said in a letter to the Department of Education in February. "But even beyond for-profit schools, tens of millions of students are in more debt than they can ever repay.
"To the Department of Education and to the lenders, servicers, and guarantee agencies who have stolen our futures, we say: enough! Erase these loans."
Strike Debt is helping provide legal support for the students for the consequences of the strike, which will be harsh if the group isn't relieved of its debts. Student loans are the most collectable form of debt, and not paying them back has a devastating impact on everything from credit scores to employment opportunities.
Will it succeed? The strike, which began in the last week of February, has caused a great deal of media buzz. Last week, the group received the endorsement of Rep. Maxine Waters (D-Calif.), who said that their struggle represents a broader issue of predatory behavior among for-profit schools.
"This effort puts a public face on the issue of predatory colleges," Mark Huelsman, senior policy analyst at the think tank Demos, told Mic. "This isn't a case where an institution failed to provide students help in getting a job, or that an institution's cost outweighed the benefits – we're talking about a school that has been sued by two states, the CFPB and investigated by the SEC. By all accounts, Corinthian was a predatory actor, and there are real human consequences to that."  
"This effort also brings to light that the U.S. Department of Education actually has the authority, right now, to unilaterally forgive federal student debt in cases of fraud or misconduct," Huelsman said.
The Education Department has advised the strikers to continue to pay off their debts, according to the Huffington Post. But that could change: Some reports last week suggested that the federal government is contemplating relieving Corinthian students from their federal loan obligations as well.
That would be a great help to Suggs, who has an infant child and is struggling to find a job.
"With all this debt, I'm just not sure what my future will hold," she said.