Why Netflix Is About to Bury the Competition — and Blow Up Bigger Than Ever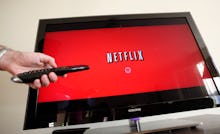 Summer television programming schedules are filled with bottom-shelf leftovers and reality series, but Netflix is changing the script. No network's summer slate can hope to stand up to the schedule Netflix announced earlier this week: four prestige series, two stand-up comedy specials and a critically acclaimed Sundance documentary.
But that's par for the course for a streaming giant that has blown away expectations since unlimited streaming became the backbone of its business plan in 2008. Once just a mail-order DVD rental service, Netflix is about to become bigger than ever.
Netflix is programming the most original content in its history this year: According to a statement by Chief Content Officer Ted Sarandos, the service is releasing 320 hours of original programming this year. Compare that to premium cable network HBO, which programs 200 hours of original content every year, according to CNBC. Netflix's investment isn't a small one — and it's going to make the company some major coin.
What sets Netflix apart is how aggressively it's going after audiences of different kinds. It doesn't release traditional ratings for its shows because it doesn't need to. How many people are watching each program is not the end-all for Netflix; it's how many subscribers each individual program can bring in and keep. With a commitment to quality and a pattern of growth, Netflix isn't just winning the programming battle. It's miles ahead of the competition.
At 2013's Guardian Edinburgh International Television Festival, House of Cards star Kevin Spacey compared Netflix's model to the one used on U.K. networks, which place a greater emphasis on quality than in quantity. "Last year [on network television], 113 pilots were made. 35 of those were chosen to go to air, 13 of those were renewed, but most of those are gone now," he said of network TV in 2012. "The cost of these pilots was somewhere between $300 and $400 million a year. That makes our House of Cards deal for two seasons look really cost effective."
It's a strategy Netflix used again for Unbreakable Kimmy Schmidt, the company's newest original release that began streaming Friday. The Tina Fey and Robert Carlock-produced show was originally developed for NBC, but when that network felt it wasn't a good fit, Netflix picked it up for not only the completed first season, but also a second.
Kimmy is aimed at a far different audience than Cards, which debuted its third season at the beginning of March. The former is a light/dark comedy with indefatigably charismatic main character, while the latter is a thrilling political melodrama. Although some Netflix subscribers will likely watch both, the goal, as Sarandos put it, is diversity: "We're not going after one kind of audience, or one type of show."
The diversity strategy means big bucks. In the last quarter of 2014, Netflix added 4.3 million new subscribers — up from the addition of 4.07 million subscribers in the fourth quarter of 2013. With the number of new series the company has announced this spring, including the upcoming Kyle Chandler thriller Bloodline and the first entry in their partnership with Marvel, Daredevil, it would be stunning not to see the service trump the 4 million subscribers they added in the same late-winter/early quarter last year.
Much of the attention Netflix gets has focused on the alleged binge-watching habits of its subscriber base, but while critics predicted that the content gluttony would turn viewers away more quickly (or kill them) the opposite has happened. The strategy of releasing full seasons of programming simultaneously has been replicated by other streaming networks like Amazon, and when a service doesn't do it, (like Yahoo with Community), it's notable.