Harrison Ford Seriously Injured After Crashing Small Plane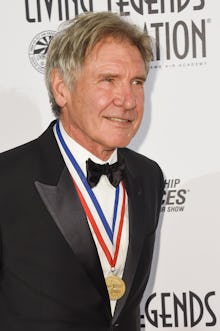 Actor Harrison Ford, 72, was seriously injured after crash-landing a small plane on a golf course near the Santa Monica Municipal Airport in Southern California, as first reported by NBC News. Ford was alert and conscious at the scene, a fire official said at a news conference late this afternoon.
The Associated Press cites local authorities saying the Ryan PT-22 Recuit vintage flier went down "around 2:30 p.m. [PST] Thursday on the green at Penmar Golf Course in the Venice area of Los Angeles." No one on the ground was injured.
The plane, seen below in a tweet from KTLA executive producer Christine Miceli, appears mostly intact. Other images show the nose of the plane having taken the brunt of the impact. KNBC chopper images show a man believed to be Ford being wheeled into an ambulance
The Los Angeles Police Department has cordoned off the course, calling it a "crime scene," until federal investigators can arrive to conduct a specialized investigation.
This is a developing story. More details will be posted as they become available.