This Domestic Violence Ad Is Going Viral Thanks to an Unexpected Twist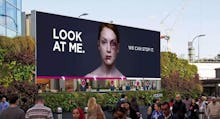 We often lambast advertisements for the ways in which they harm consumers and fail to embrace their potential beneficial impact. But one recent ad campaign is using an innovative combination of technology and media messaging to do just that.
British domestic violence awareness organization Women's Aid launched a billboard in London this week featuring a woman with two black eyes, swollen features and lacerations. It's a powerful image on its own, but the ad takes things further by actually changing based on people's responses to it. 
If passers-by ignore the image, it remains stagnant, but if they take the time to stop and look, the ad becomes interactive and the woman's face begins to heal. According to an explanatory video about the campaign, this is done through facial recognition technology. Onlookers are also captured on camera, and their responses are projected on to the bottom of the billboard. 
"Domestic violence is experienced by hundreds of thousands of women every year, but many feel unable to tell anyone because they think that they won't be believed or that people won't understand," Women's Aid CEO Polly Neate told Little Black Book Online. "These women live in an invisible prison: controlled and harmed by the person who should love them most."
Indeed, the campaign addresses the silence, shame and lack of bystander intervention that are often at the heart of the perpetuation of domestic violence. According to Women's Aid, 1 in 4 women will experience domestic violence in their lifetime, but less than half of these incidents are reported to the police. This results in an average of two women per week being killed by a violent partner or ex-partner, which constitutes nearly 40% of all female homicide victims, according to Women's Aid.
The campaign also employs Weve technology, which sends text messages encouraging those nearby who are detected to donate to Women's Aid and financially contribute to eradicating domestic violence.
While this campaign is undeniably powerful, it's also crucial to note that intimate partner violence is not always physical. Plenty of women — and men — face psychological, emotional, sexual and financial abuse from their partners and, though these forms may be less visible than bruises, they are still damaging. 
Ultimately, though, this campaign is an example of the power of technology and media to not only impart a positive message but further engage and empower individuals to act. As the organization states in the video about the campaign, "If you can see it, you can change it." 
h/t Creativity