'Unbreakable Kimmy Schmidt' Shines Through Its Own Darkness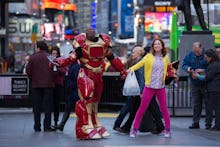 If you're wondering whether you're going to like Unbreakable Kimmy Schmidt, consider this: Every episode of the series is titled "Kimmy [Insert Thing Kimmy Does]!" 
"Kimmy Goes Outside!"
"Kimmy Goes on a Date!"
"Kimmy Is Bad at Math!"
Chances are you will find this either adorable and lovely, or it will be like nails on your mental chalkboard. If it's the latter, this show is officially too cheery for you, sourpuss. If you're open to a little twee framing, however, you're going to like Kimmy's sensibility: sunny and charming enough to shine through incredibly dark comedy. It's a worthy successor to the recently departed Parks and Recreation's place in pop culture but not in the way you'd imagine.
But it's not just cutesy fluff: Netflix's new comedy, from the minds of 30 Rock producers Tina Fey and Robert Carlock, is more than its light and bubbly episode-naming scheme might suggest. 
The premise is about the eponymous Kimmy Schmidt, (Ellie Kemper, of The Office and Bridesmaids and absolutely winning in this role), who is rescued from a doomsday cult she was brainwashed into joining in eighth grade. Over the intervening 15 years, Kimmy thinks the rest of the world was completely gone, but never quite believes it. Kimmy is too hopeful to believe that. When she learns there's a whole world for her to explore, Kimmy breaks off from the other "mole women" to take her chances in New York City. That, of course, means she's the victim of people taking advantage of her naïvete, and worse.
It's a credit to Kemper for never making Kimmy feel cartoonish or stupid. She is the heart of the show, keeping the audience on the protagonist's side even in her darkest moments. Kimmy gets spit at by New York, but she smiles back in its face.
Unbreakable Kimmy Schmidt is as sharp as the producing pair's previous hit for NBC, but it doesn't have the crazy streak 30 Rock had. Despite the premise, these are all characters behaving as reasonably and normally as possible. Yes, Jenna Maroney is there (Jane Krakowski, as cuttingly funny as she ever was on 30 Rock), as is Angie Jordan's hairdresser D'Fwan (Tituss Burgess, also stellar). But that's about it — Kimmy much more closely resembles Parks and Rec's Leslie Knope.
The show around her, however, more resembles Parks and Rec's first season. As Sam Donsky recently wrote for Grantland, that first season was much darker than the show would eventually become:
Season 1 Parks is like someone took Seasons 2-7 Parks, sized it up, held it to the light, and then slowly, confidently stripped it of every slickness, every sweetness, every rebloggable quote, every frivolous cameo, every spirit animal, every piece of fan service, [and] every meme-in-waiting.
So what happens if you put the chipper, excitable Leslie of later seasons in the darker first-season environment? Unbreakable Kimmy Schmidt is a pretty good estimation: The light of its lead shines through the darkness around it. You get the laughs, but you also feel good afterward. It's not the kind of show that wants to punish its audience with comedy — it wants to laugh along with you. It's a delight, and fills the void Parks and Rec left behind just last week when it aired its series finale. We need a Leslie Knope in our world, and Kimmy Schmidt fills her shoes nicely.
She's sticking around too: Kimmy has already been renewed for a second season, which is great news for those wanting an ultra-sweet dose of pick-me-up available to them any time on Netflix. Even if it doesn't sound like your cup of tea, you've got to admire the fact that this quirky show exists. Like Kimmy herself, Kimmy's existence in this world is surprising, exciting, necessary — and, of course, delightful.