The Most Elusive Man in Hip-Hop Just Released an Amazing New Track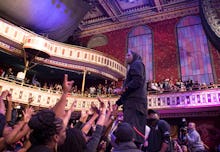 Jay Electronica is one of the most well-respected men in hip-hop, but he's never released an album. On Friday, the most obscure and reclusive artist in the game emerged once again, sharing a new track called "Road to Perdition." Electronica's verses are crisp, filled with characteristic spirituality and social consciousness. It is, as everything he's ever released, incredible.
Source: Soundcloud
The track surfaced early Friday, circulating as a low-quality leak. The original version claimed the track featured Jay Z, though he doesn't do anything on the track except ad-lib "Let that bitch breathe" and "I got you, Breezy" — samples pulled from his 2007 song "Success." It stands to reason — some of Reddit's hip-hop community speculate that the song is five years old itself.
When the new track started building momentum, Jay Electronica himself stepped in to throw the fans a bone and give them quality they deserve:
Fans have been waiting on new music from Electronica for years. His debut studio album Act II: Patents of Nobility (The Turn), has been teased and delayed since 2011, when the artist shared that it was complete and hinted about the song he released today. But due to some rough verses and a lingering drug and alcohol problem that crippled him creatively, the record went back to the drawing board. He assured us it would come out in 2014, but — surprise! — it did not.
His upcoming album is intended to be a sequel to his break-out mixtape, a 16-minute-long release entitled Act 1: The Eternal Sunshine (The Pledge). The strength of his deeply introspective and mystical verses, spit over beatless instrumentals crafted almost entirely out of samples from the soundtrack to the film Eternal Sunshine of the Spotless Mind, gave him instant legendary status in the hip-hop community. It earned him some powerful co-signs from Nas, Jay Z and Diddy. Yet other than a few singles here and there and a couple of epic performances, he hasn't offered much to deepen his legacy. The mystery of Jay Electronica still grows. 
That might be about to change, though. On Tuesday, Jay Electronica announced that he'll be embarking on a tour of Europe and China. Maybe that new album is finally on the way?
h/t Rap Radar