The Way Most People Meet Their Significant Others Is Probably Not What You Think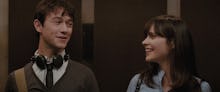 Great news for the dating app averse: Despite what the Tinder-loving media might have you believe, new data suggest that the most common way to meet someone is in real life — namely, through friends.
According to a 2,373-person survey conducted by Mic in March using Google Consumer Surveys, more 18- to 34-year-olds met their current significant others through mutual friends than through any other means, including dating apps — close to 39% of respondents said they met "through friends in common," closely followed by 22% who said they met "out in a social setting."
Moreover, when it comes to turning initial connections into romantic relationships, friendships still yield the best results — 40% of respondents said they were "platonic friends first" before getting romantic, versus 35% who started as a series of formal dates and 24% who got started from a hookup.
That's right: The majority of couples are making their initial connections IRL, as friends, in places where they needn't worry about clever usernames or conversation-sparking photos. Though 59% of Americans see online dating as a great way to meet people, according to the Pew Research Center, the reality is that the old-fashioned approach reigns supreme: Just 10% of respondents said they met through a dating site or app.
All of which should be comforting to those of us who aren't convinced that an app can lead to love. When it comes to meeting the right person, most of us are actually sticking to the basics — and it's working.
Trusting your friends' judgment: There's a reason a mutual friend is a trustworthy connector. After all, he or she is hanging out with both of you already. Chances are people in the same social circle share similar interests and values, which, despite the appealing adage "opposites attract," is proven to be key for establishing common ground early on in a relationship and maintaining it in the long run.
Jen, 30, was introduced to her future husband through a mutual friend, she told Mic. "We met at a bar, then a year later our friend Kristen said, 'I think [he] would make a good boyfriend.' And I said, 'I'll take him!'"
Having friends' stamp of approval is not only helpful for making the initial connection; turns out it's also crucial once the relationship is under way. A study by Cornell University and the University of Indianapolis in 2014 found that people who met their partners through friends, family or their communities felt more supported in the relationship, a factor that can significantly impact how the relationship fares over time.
Taking the pressure off: Meeting in a natural, social way is also less stressful. As anyone who's ever been on a blind date knows, you're much more relaxed when you're not psyching yourself up for what's to come. Instead, walking into an assumedly non-romantic situation allows potential connections to flourish more organically (see: office romances).
"It was a lot different because there were no expectations," said Maggie, 24, when comparing her unsuccessful OkCupid experience to meeting her current long-term boyfriend at a mutual friend's party. "Online, there are expectations that you're romantically interested in each other."
This lack of urgency made her more comfortable. "Obviously I was attracted to him," Maggie said. "Beyond that, the thing I noticed right off the bat is our conversation was pretty fluid and we both had the same sense of humor. It all added to the experience of getting to know someone and courting someone."
Building on friendship: It's significant that about 40% of respondents said they were "platonic friends" with their significant others first. Being friends above all else is crucial to successful relationships, and not only because you bond quickly over shared interests.
A recent Canadian study found that spouses who define each other as their "best friends" are happier than those who don't. The key: Setbacks are all but guaranteed in life, so having a reliable companion at your side is vital.
Being friends first also means you avoid the most obvious pitfall of online dating: not knowing what you're getting. Maggie said she was open to online dating until she "went out on a date with someone who didn't look the way they did online, which freaked me out. If they didn't look the way they did online, what else are they lying about?"
The real-world advantage: The impulse to date someone familiar has filtered down, ironically, into the dating app world. Hinge, the buzzy "the anti-Tinder" app, specifically serves up matches based on mutual Facebook friends. As Hinge CEO and founder Justin McLeod told BuzzFeed, Tinder "has more of a hookup orientation than a relationship orientation," due to the randomness of the user pool. But apps like Hinge capitalize on the power of friendship. 
As Maureen O'Connor wrote of her Hinge experience for New York magazine: "Matches from your extended social network can be unnervingly good."
Thankfully, your extended social network functions IRL. Mic's survey findings are hearteningly in line with past data, including a 2012 Stanford study of couples that found the Internet was only the third most likely way of meeting, after introduction by friends and encounters in social spaces (read: bars).
Of course, it depends what you're looking for. A similar Google Consumer Survey by Mic found that the vast majority of respondents had been with their partners for over two years; when it comes to landing something quick and fun, Tinder might still be the best bet. 
But for those of us who can't swipe away from the dating apps and sites fast enough, there's hope — if you just glance up from your phone long enough to take a look.