17 #BlackOutDay Tweets Prove The Power of Celebrating Black Culture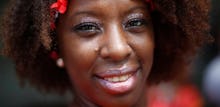 Black History Month has come and gone, but many on social media are extending the celebration a little while longer. 
The #BlackOutDay campaign has gone viral across social media as users post selfies, photos of their families, images of their favorite celebrities and messages of inspiration that demonstrate their cultural pride as black people. 
As ABC News reports, the campaign was started by Tumblr user named T'Von, who recently shared his inspiration for #BlackOutDay on his Tumblr page.
"Black History Month is always excellent, but one month isn't enough to celebrate our heritage and our beauty." he wrote. 
"We need a unified agreeance that ALL black people are beautiful and worthy of praise and admiration," he continued, "and Blackout day is a step towards that."
For most of Friday, #BlackOutDay has been the top trending hashtag in the United States. And if these tweets are any indication, black people have taken up the call. 
The backlash: Of course, with any celebration of positivity comes a side of ignorance rooted in negativity. Soon after, the hashtag #WhiteOutDay emerged as a counteracting force, where some complained about the celebration being "racist" or "exclusionary" against white people. 
But, of course, those claims are being rebuffed in the best possible way.
This celebration matters. In a world where black culture and black people are often denigrated or deemed less than worthy, this celebration shows the world that, everywhere, in the words of a James Brown anthem, black people are saying it loud: "I'm black and I'm proud."