50 Years Later, Civil Rights Hero John Lewis Live-Tweeted the "Bloody Sunday" March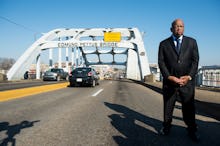 Half a century after he was beaten and nearly killed by Alabama state troopers and police, Rep. John Lewis (D-Ga.) is giving his account of that bloody and transformative day in a series of captivating tweets. Just 25 years old in March 1965, Lewis was already a leading civil rights activist and organizer when he had his skull fractured by segregationist forces as they set upon hundreds of peaceful demonstrators. 
Martin Luther King, who led the fateful march across Selma's Edmund Pettus bridge "was my inspiration," Lewis told Mic in January. "He was like a big brother."
Images of King, Lewis and the "Bloody Sunday" chaos quickly made their way around the country, putting new pressure on the U.S. Congress to pass the Voting Rights Act, which President Lyndon Baines Johnson would sign into law just 5 months later. 
Today, President Barack Obama began his speech by honoring Lewis, calling him "one of my heroes," then beginning to recall the story of the march. Lewis has been giving his own, firsthand account in a series of tweets that began Saturday morning and continued throughout the day. What follows is both poignant and horrifying, a remarkable tribute to the men and women who made Selma, as Lewis told CNN, an "almost holy place." 
Lewis has also co-authored two graphic autobiographies about his memories of Selma and the Civil Rights movement. The second, called March: Book II, was released in late January. 
"So plain and so real, it reminded me of Dr. King's father, sitting by his side as he spoke, saying 'Make it plain, son! Make it plain,'" Lewis told Mic. "The book does the same."
On Saturday, it was Obama — who sat next to Lewis during the ceremonies — who "made it plain" for the thousands on hand to mark the anniversary.
"There are places, and moments in America where this nation's destiny has been decided," the president said. "Many are sites of war — Concord and Lexington, Appomattox and Gettysburg. Others are sites that symbolize the daring of America's character – Independence Hall and Seneca Falls, Kitty Hawk and Cape Canaveral."
"Selma is such a place."