Fiery President Obama Demands Congress "Make It Their Mission" to Restore Voting Rights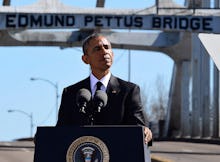 Speaking in Selma, Alabama, at ceremonies to mark the 50th anniversary of the "Bloody Sunday" voting rights marches, President Barack Obama consecrated the city and the memory of the demonstrators who bled on its Edmund Pettus Bridge as one of the "places and moments in America where this nation's destiny has been decided."
But he also warned that the progress Martin Luther King Jr., Rep. John Lewis (D-Ga.) and hundreds more marched for a half-century ago was at risk, with the Supreme Court invalidating parts of the Voting Rights Act in a 2013 ruling and many states now passing voter suppression laws. Today in Alabama, voters are required to present identification at the polls. More than 30 states have passed similar laws, a number of them currently disputed in lower court battles.
"How can that be?" Obama asked, railing against a growing strain of right-wing electoral revanchism. "One hundred members of Congress have come here today to honor people who were willing to die for the right it protects. If we want to honor this day, let these hundred go back to Washington, and gather four hundred more, and together, pledge to make it their mission to restore the law this year."
Missing Republicans: Obama noted that Presidents Ronald Reagan and George W. Bush renewed the most important provisions of the Voting Rights Act during their time in office. Bush made the journey to Selma for Saturday's gathering. But he was the highest profile Republican on hand — as of mid-afternoon Friday, none of the GOP congressional leadership planned to attend. After a minor uproar, House Majority Leader Kevin McCarthy (Calif.) announced he would make the trip. House Speaker John Boehner (Ohio) and his second lieutenant, Majority Whip Steve Scalise (La.), were notable absences. 
"It is astounding to me that whether it is supporting the continuation of the Voting Rights Act or commemorating a pivotal part of American Civil Rights history, Republican leadership prefers to sit on the sidelines," Michael Steele, who became the Republican National Committee's first black chairman when he was elected in 2009, told the Washington Post on Friday. Steele's successor, Reince Priebus, was scheduled to be in Selma on Friday.
New leaders join with old: After his speech, Obama and his family joined with Lewis and Attorney General Eric Holder to cross the Edmund Pettus Bridge. Hundreds more, including protest leaders from Ferguson, Missouri, lined up behind them. 
They were following the path of more than 500 nonviolent demonstrators, who on March 7, 1965, attempted to march from Selma to the state capital in Montgomery as part of a longer campaign to pressure federal lawmakers into passing the Voting Rights Act. But they were blocked at the pass by a phalanx of segregationist state troopers. Joined by local police and armed citizens, the troopers assembled on the bridge before setting upon the marchers when they moved forward.
"When we were beaten on that bridge in Selma, people couldn't take it, when they saw it, when they heard about it, when they read about it," Lewis said during a radio interview with Roland Martin in November. "There was a sense of righteous indignation. If we see a miscarriage of justice in Ferguson, we're going to have the same reaction people had towards Selma."
Lewis was speaking in the days before a Missouri grand jury elected not to indict former Ferguson Police Officer Darren Wilson for the killing of unarmed black teen Michael Brown. Last week, the Department of Justice revealed it would not bring federal civil rights charges against Wilson. But its report on the systemic racial bias in the Ferguson Police Department and municipal government shocked observers. 
"I was asked whether I thought the Department of Justice's Ferguson report shows that, with respect to race, little has changed in this country," Obama said during his remarks Saturday. "I understand the question, for the report's narrative was woefully familiar. It evoked the kind of abuse and disregard for citizens that spawned the Civil Rights Movement. But I rejected the notion that nothing's changed. What happened in Ferguson may not be unique, but it's no longer endemic, or sanctioned by law and custom; and before the Civil Rights Movement, it most surely was."
But he also pointed to the struggle ahead.
"We know the march is not yet over, the race is not yet won, and that reaching that blessed destination where we are judged by the content of our character requires admitting as much," he said.
On the ground in Selma: Many of the young leaders who have stepped forward to grab the baton from Lewis and then Obama's generation were in Selma on Saturday. They used Twitter and Instagram to share images from the ground.