Women Aren't Being Treated for Heart Attacks Because They Don't Want to Appear "Fussy"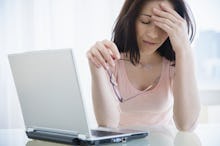 Young women, be careful with your hearts. 
A Yale University study published in Circulation: Cardiovascular Quality and Outcomes in February has found that 15,000 women under the age of 55 are killed by a heart attack each year, and that many of them ignore their symptoms until it's too late.
"No one is really paying attention to young women," coauthor Leslie Curry, a research scientist at Yale, told Mic. According to the American Heart Association, 90% of women have at least one risk factor for heart disease.
Unlike most studies, which approach health issues by collecting and sifting through numbers and statistics, the team at Yale went after qualitative data, interviewing 30 young women between ages 30 and 55 who had been hospitalized for heart attacks. The team wanted to investigate the symptoms each woman experienced and gather information on what led them to, or delayed them from, seeking medical care.
"This very intimate, internal sort of lens is very profound," Curry said. "It was about really trying to get inside [patients'] heads during the moments when they were experiencing symptoms of heart attacks and really trying to understand their decision-making in those moments — what were the competing factors that weighed on the decision to engage doctors?"
They don't want to be a bother: During the interviews, the young women were questioned about how well they recognized their symptoms, what prompted them to go in for a check-up, their interactions with doctors and how they felt about the whole experience when looking back.
"I do believe that women seek prevention in general more than men," Patricia Best, a Mayo Clinic cardiologist who was not involved in the study, told Mic. "However, because women do not perceive heart-disease-risk to the same extent as men do, they may not be looking to prevent a disease they are not expecting to get." She pointed out that the first line of thought for a younger woman might be, "I couldn't be having a heart attack," which might prolong the amount of time it takes for a woman to check in with her doctor.
"One reason is that younger women don't recognize that the symptoms that they are having are a myocardial infarction," Best said.
The American Heart Association lists symptoms including dizziness, nausea, shortness of breath and the trademark chest pain or discomfort as signs that a woman may be experiencing a heart attack. Even though heart disease is currently the number one killer of women in U.S., female heart attack patients often chalk up the symptoms to less life-threatening conditions like acid reflux, the flu or normal aging.
Even when women went in to see their doctor, they reported sometimes feeling "rebuffed or dismissed," Curry said. This indicates that both women and doctors may be overlooking symptoms.
"It is not any harder to diagnose a heart attack in a woman compared to a man as far as testing," Best said. However, she pointed out that women are likely to present more symptoms than men, which can lead physicians to misdiagnosis or prolong the search for appropriate testing.
Best also that the problem extends into how a woman takes care of herself after experiencing a heart attack.
"Women utilize cardiac rehabilitation at a lower rate than men," she said. "They are referred to rehab at a lower rate than men, may be limited from time constraints more than men and have had issues in the past of few, if any other, women in rehab, which limits the supportive role of rehab."
Sharing is caring: "I think it's a shared responsibility, there is lots more work that needs to be done," Curry told Mic. The next step for research would be to investigate more precise diagnostic methods and find a way to get both women and doctors up to speed on the symptoms. For women, knowing your family medical history is just as important as listening to your body. For healthcare providers, it might be important to cover all the bases and explore a heart attack diagnosis in a young women, even if it seems unlikely.
The solution may not be simple, but as in all matters of the heart — anatomical or figurative — communication may be key.