It's Been One Year Since Flight MH370 Mysteriously Vanished — Here's All We Know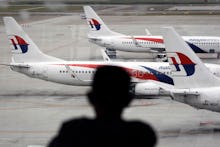 On March 7, 2014, Malaysia Airlines Flight MH370 and its 239 people on board disappeared.
One year later, a report by Malaysian investigators aims to shed light on what happened on the flight from Kuala Lumpur to Beijing. But many questions remain unanswered, including where the plane is and what caused it to presumably crash somewhere in the south Indian Ocean. Here's what we now know, and what we still don't.
New findings: According to the 584-page Ministry of Transport Malaysia report, an extensive review of factors that may have led to the plane's disappearance has come up with pretty much nothing. 
The investigators conducted a background check on Capt. Zaharie Ahmad Shah, who they concluded was unlikely to have deliberately brought down the flight for personal or ideological reasons.
"The captain's ability to handle stress at work and home was good. There was no known history of apathy, anxiety, or irritability," the report reads. "There were no significant changes in his lifestyle, interpersonal conflict or family stresses."
The team also reviewed video footage and determined there was nothing unusual in his behavior that would lend itself to the theory that Shah acted inappropriately.
"On studying the Captain's behavioral pattern on CCTV recordings on the day of the flight and prior three flights there was no significant behavioural changes observed. On all the CCTV recordings the appearance was similar, i.e. well groomed and attired. The gait, posture, facial expressions and mannerism were his normal characteristics," according to the report.
All relevant crew members also checked out. The investigators were unable to find any evidence of behavioral anomalies, self-neglect or substance abuse by the captain, first officer or cabin crew. While it's impossible to rule out anything at this point, the report at least determines there is no reason to suspect foul play on the part of the crew.
There is one concrete piece of new information: The battery in the plane's locator beacon had long since expired thanks to an engineering department records error. This would explain why search and rescue teams were never able to find the plane or the beacon.
"According to maintenance records, the SSFDR ULB battery expired in December 2012. There is no evidence to suggest that the SSFDR ULB battery had been replaced before the expiry date," the report reads. "While there is a definite possibility that a ULB, will operate past the expiry date on the device, it is not guaranteed that it will work or that it would meet the 30-day minimum requirement." 
The flight's black box, which keeps a thorough audio record of all sounds in the cockpit, was however properly maintained and was presumably in operable condition.
Finally, investigators released these charts showing the chronological sequence of events preceding the plane's departure from its flight plan and estimated position after (pages 6-7):
What we don't know: A lot. Where the plane is and why it went down remain mysteries. 
According to CNN, experts have used radar and satellite data to narrow the search zone to the south Indian Ocean, but a fleet of ships with specialized equipment won't be done searching until May. USA Today reports that about 40% of the 23,000-square-mile search zone has been covered. 
Malaysian Prime Minister Najib Razak says the search effort will continue until the plane's fate is determined. The Guardian reports that he told family members and loved ones of the 239 missing passengers and crew that he empathized with their pain, adding, "The lack of answers and definitive proof — such as aircraft wreckage — has made this more difficult to bear. Together with our international partners, we have followed the little evidence that exists. Malaysia remains committed to the search, and hopeful that MH370 will be found."
Finding the plane won't just bring resolution to the many loved ones waiting for answers. Investigators need to find the plane to prevent whatever mechanical or pilot error that brought down MH370 from re-occurring on another flight or to bring justice to those responsible.
For now, the fate of those 239 people remain one of aviation's darkest mysteries. According to the Australian, only one other air disaster involving more than 100 people has gone unresolved, the disappearance of a Flying Tiger Line craft chartered by the U.S. military in 1962 with 107 people on board.