The Internet Just Had the Best Response to Bullies Who Fat-Shamed This Man for Dancing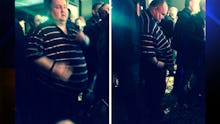 Here's an immediately classic story of Internet goodwill: Anonymous online bullies tried to ruin a man's self-confidence because of his weight. Now, hundreds of young people, celebrities and activists have joined forces to throw him the personal dance party of anyone's dreams.
It all started when Free Thought Project writer Cassandra Fairbanks encountered a post from notorious Internet troll-hole 4chan, in which an anonymous user reported he had body-shamed a heavyset man into ceasing his dance moves by laughing at him.
The post was originally uploaded to photo-sharing website Imgur by a user named FrozenBadget, who commented "I find this behavior f*cking despicable. If you're out there big man, f*ck those kids. Keep dancing." One top-rated commenter added that "The second picture breaks my heart. He looks so f*cking defeated. Piece of shit kids."
Stepping in to help: Fairbanks decided to find the man in the photos so that a "huge group of ladies" could do something special for him. The #DancingMan hashtag was born, and Fairbanks' followers helped take up the hunt. While still looking for him, Fairbanks announced that she and the women were "prepared to throw quite the dance party just for you, if you'd have us ... to be clear, it's 1,727 of us. And we are all women."
Twitter user Max Taucer located the man in a photo taken in London:
Eventually, the man identified himself on Twitter as a Londoner named Sean, and Fairbanks announced that the massive dance party was moving forward.
The big party: According to Today, celebrities from Pharrell Williams to Ellie Goulding have endorsed the party and some may even attend. The Los Angeles Memorial Coliseum announced it would donate time at the venue to throw the festivities. On Twitter, Sean posted a photo of himself "in training" for the dance party with boxer Riddick Bowe.
Electronic music artist Moby even offered to DJ.
A GoFundMe account established to help fund the party had raised over $34,000 as of early Sunday afternoon. 
"Many of us know what it is like to not be comfortable in our own skin — and the photograph resonated with all of us," reads the description on the fundraising page. "When we saw the worlds response throughout the night it became clear this was bigger than us, bigger than him, and the start of a beautiful wave of solidarity against bullying, against body-shaming, and an inspiration to #Dancefree in our own bodies."
Sean has been trying to keep a low profile and says he has turned down multiple interview requests, but will soon arrive in Los Angeles for his dance party with over 1,700 women.
If you needed something to restore your fundamental faith in humanity, this story and its happy ending courtesy of the goodwill of thousands of strangers should do the trick.
A real problem: Unfortunately, for every Sean there are many others who experience discrimination and poor treatment for the supposed crime of living in their own bodies. A 2014 study in the journal Obesity found that not only did 36% of 2,944 U.K. adults classified as "morbidly obese" report being discriminated against due to their weight, such shaming promoted "weight gain and the onset of obesity."
"Exposure to weight stigma is associated with psychological distress," the researchers wrote. "Weight discrimination has been justified on the grounds that it encourages obese individuals to lose weight, but our results provide no support for this notion and rather suggest that discrimination exacerbates weight gain and promotes onset of obesity." 
They even noted a kind of experience that might sound familiar to Sean: "People who experience stigmatization perceive themselves as less competent in physical activity and tend to avoid it."
Breaking through these attitudes is important, not just because they're completely counterproductive but because they're wrong on a basic moral level. Here's hoping Sean has a great dance party, and that the bullies responsible for trying to make him feel bad have learned a lesson about kindness.