Watch SNL Hilariously Shut Down Iggy Azalea for Constantly Ripping Off Black Culture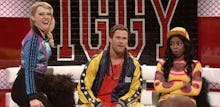 Tired of Iggy Azalea's B.S.?
The latest Saturday Night Live mocked the rapper's habit of stealing ideas from black artists like Azealia Banks. The two emcees had an infamous beef after Azalea referred to herself as a "runaway slave master" and escalated to the point where Banks accused Azalea of sending the message to black kids: "You don't have shit. You don't own shit, not even the shit you created yourself."
In the clip below, Kate McKinnon plays Azalea, Sasheer Zamata plays Banks and host Chris Hemsworth drops in as Azalea's fictional cousin "Rafty":
While Banks says she's there to "bury the hatchet," Azalea subjects her to a series of increasingly cringeworthy clueless white people moments from instructing her viewers to randomly interject "a gun sound like bang bang, click clack" into rap songs to advising them "when your mouth gets tired of rapping, let your booty do the talking."
While twerking.
The sketch mocks her mentor T.I. (Jay Pharoah) for continually coming to her defense in every scenario, with T.I. referring to her as his "Franken-fine." At one point, Azalea just straight up steals Banks' dance moves, and then her hat:
It's a well-deserved takedown of Azalea, who has appropriated most of her act from black artists and seemingly learned nothing from the experience. She's whined about people who want to make rap "racial" and "political" (irony alert). She's called her black critics misogynists. She's attempted to pass off pre-written lyrics as freestyling. 
Azalea even earned the indirect condemnation of fellow white rapper Macklemore, who recently asked other white artists if they are using black culture "for your own advantage or are you contributing?" and added that "I do believe I need to know my place."
Clearly, Azalea does not know her place. Luckily, SNL came in with a friendly and hilarious reminder.