This Lebanese TV Anchor Just Silenced the Misogynist Who Told Her to "Shut Up"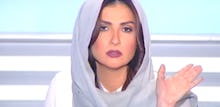 A radical Islamic sheikh demands that his female host conduct an interview on his terms. She tells him that "Either there is mutual respect, or the conversation is over." He refuses, appears to imply that he can't be talked over by a woman — and so she cuts him off.
Happy International Women's Day!
That's the scene that played out in a recent clip posted by the Middle East Media Research Institute (MEMRI) in Washington D.C. It has attracted a lot of attention for debunking the stereotype of the subservient Middle Eastern woman. 
Here's the video showing the exchange between Lebanese TV host Rima Karaki and London-based radical Sunni sheikh Hani Al-Siba'i, which MEMRI says was originally recorded on a March 2 broadcast of Al-Jadid/New TV in Lebanon:
"Please don't get all worked up," Karaki says after telling the guest to skip over some superfluous historical background. "We respect you and know you want to give a complete answer."
Al-Siba'i responds: "Are you done? Shut up so I can talk."
But Karaki doesn't shut up. Instead, she asks him how a "respected sheik can speak to someone like that." When he refuses to comply and arrogantly asserts that he is respected whether the "woman" Karaki likes it or not, the host cuts his feed.
Bam. Shut down.
Before you get too excited, it's important to note MEMRI is a pro-Israel organization that SourceWatch describes as a propaganda outfit for Israeli intelligence agencies, and which Middle East scholar Juan Cole claims "is selective and biased against the Arab press, and that ... highlights pieces that cast Arabs, especially committed Muslims, in a negative light." 
Some Redditors claiming to be fluent Arabic speakers contest MEMRI's translation, such as whether Al-Siba'i explicitly used a gender-based putdown at the conclusion of the video or was simply being disrespectful. He may have been just as likely to talk over a male host.
Nevertheless, the Daily Dot's Marisa Kabas provides some important context, including that Al-Siba'i is "London-based" because he fled Egypt after being sentenced to 15 years in prison for his membership in Egyptian Islamic Jihad. That group is usually al-Qaida; people knowledgeable about terrorism may recognize the name of its former leader Ayman al-Zawahiri, who has headed al-Qaida since Osama bin Laden was killed in May 2011. 
Meanwhile, Karaki appears to be a strong female role model in a country where sexism is rampant and that Al-Jazeera and Human Rights Watch report systematically discriminates against women in personal status, marriage and divorce laws. Kabas found an interview with Fit'n Style, where Karaki appeared to address claims that she was "disrespectful" to some guests on her show:
Some accuse me of being "disrespectful," since I was the only one to omit my guests' titles and address them with their first names no matter who they were; I see it as more respectful in fact because we don't need all the poetry to introduce them.
"I am proud to be a self-made person, proud to have fought alone all the way," Karaki added. "I see my life as a glorious victory despite any moment of loss or failure."
Lebanese blogger Elie Fares of A Separate State of Mind writes that "Rima Karaki did something that many women in the region are too afraid to do: stand up to a bully who happens to be protected by religious establishments and fear that allow him to thrive." That's certainly worth celebrating.