This Man's 365-Day Viral Proposal Video Is Melting the Internet's Heart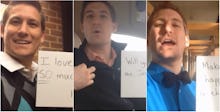 Another day, another dude stepping it up with an adorable proposal video that makes every other engagement look pitifully lame.
Dean Smith took a year gearing up to propose to his girlfriend, Jennifer, reports People. Every day for 365 days, he made a sign declaring his love, proposing marriage to her and surreptitiously filming it. Eventually, he combined each little clip into — you guessed it — an epic proposal video. 
The result is what's become a modern-day classic: the elaborate, publicly filmed, music-backed video, ready-made to melt our hearts and go viral.
Adorably on-script: Smith's video hits all the key elements of the genre, from talking earnestly to the camera to getting others involved in the final, on-one-knee moment. And of course, there is Bruno Mars' "Marry You" in the background, a song that seems to have been made explicitly for the purpose of soundtracking viral proposal videos. Another YouTube sensation memorably used the catchy hit in what was dubbed (heh) the "world's first live lip-dub proposal." 
Another key element of the genre is the long-term planning it requires. Smith took 365 days to create his video — an impressive amount of time, but nothing compared to the four years it took Jack Hyer to film his around-the -world proposal to his girlfriend. Hyer scored his video with the song "500 Miles," which was admittedly perfect.
Playing the long game has its own element of romance, which (if this was The Bachelor) you might say symbolically reflects the long-term commitment these people are about to make to each other. It's hard not to swoon at that level of devotion, not to mention the selfless willingness to look ridiculous for the sake of your one true love.
Not for everyone: As making elaborate proposals become less of a trend and more of an Internet-age mainstay, it's important to note that not everyone wants to get engaged this way. In fact, for every individual who gleefully accepts an offer of marriage made in an over-the-top viral video, there is probably another person squirming uncomfortably in his or her seat as their significant other proposes via Jumbotron. 
Some even argue there's something disturbing about making engagements so public, reflecting a cynical grab for attention and the "pornification" of proposals.
But there are those who adore them, and knowing whether your S.O. is the kind of person who'd be into an extravagant engagement means knowing this person extremely well — well enough that you're ready to marry them. "I knew that Jennifer was a fan of proposal videos on YouTube and would tear up at the sincerity and thoughtfulness of each proposal," Smith explained to the Huffington Post. "She showed several of them to me, and I decided that I wanted to make her tear up to her own proposal."
Kudos on doing your research, Dean. We hope everyone else behind these viral videos is doing the same. One person's tearfully perfect engagement is easily someone else's painfully awkward nightmare.
h/t People