Here's One More Big Reason to Love 'Unbreakable Kimmy Schmidt'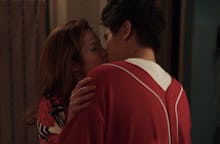 Netflix's latest original series, Unbreakable Kimmy Schmidt, has a lot going for it: It's led by 30 Rock producing team Tina Fey and Robert Carlock, it stars the charming Ellie Kemper and it offers a rare and welcome glimpse at an interracial romance.
They shouldn't have to be groundbreaking, but pop culture representations of healthy, loving interracial relationships are significant because they're so rare. Notably, Kimmy Schmidt's central romance is one that's especially absent from TV narratives. At first, Kimmy (Kemper) is interested in two white leads, but she soon falls for her fellow GED classmate and tutor, Dong (Ki Hong Lee). Lee, who is Korean-American, plays an undocumented Vietnamese man, whose playfulness, intelligence and good nature eventually win Kimmy over. 
Changing the pattern: As Fusion's Molly Fitzpatrick notes, "Kimmy is well aware of the pattern it's upsetting here, and acknowledges this with characteristic irreverence." Recently, we've only seen this type of romance normalized in 2014's cancelled Selfie, between actors John Cho and Karen Gillan. When we do see interracial romances between Asian men and white women, especially in film, it's usually an action movie in which the male lead plays a warrior, ninja and/or assassin who displays a physical strength that attracts his romantic partner. 
Refreshingly, Kimmy doesn't lean on any of those tired stereotypes: Kimmy cares about Dong for who he is. "You're kind and you're funny," she says in one scene. "And I don't want to be your friend either, because I like you. I 'like you' like you." 
Problems of representation: The reliance on the Asian "action hero" archetype reflects long-standing perceptions of Asian men, ones that have led to their utter lack of representations in romantic and sexual roles in TV and film. Onscreen but also in real life, Asian men are often viewed as asexual or effeminate, their portrayals limited to "brainy wimps, martial arts contenders, perpetual foreigners or fatalistic, silent victims," as one study noted. When they are allowed lead roles, their attempts at romance are seen as jokes, as Asian male sexuality "is still a punch line," notes Vulture's E. Alex Jung. (No one, for instance, wanted to hook up with Long Duk Dong in Sixteen Candles.)
Some are challenging that perception. Idris and Tony, a Brooklyn-based fashion photography duo, use their work to undo the damage of these stereotypes and reclaim Asian male sexuality. As photographer Tony Craig explained to Mic's Zak Cheney-Rice, "[Asian] masculinity wasn't acknowledged ... It was stripped away ... And the way Asian men are depicted in popular culture, [we're] never the object of desire ... we're still very much 'just a friend.'"
Netflix is doing their part. "There are few Asian male leads who aren't reduced to asexual, unmasculine, comedic characters who are perceived as unfit as romantic partners. Dong breaks this mold," Jennifer Lee, professor of sociology at the University of California Irvine, told Mic. 
Overcoming dating hurdles: When TV and movies cast Asian men's sexuality aside, our culture teaches us to overlook them as well. As OkCupid's data blog, OkTrends, discovered in 2009, Asian males are the most heavily discriminated-against male group when it comes to reply rates from non-Asian women. In 2014, OkCupid found that the biases still held: White women on OkCupid rated Asian men -12% less attractive than the "average guy," while black women and Latina women rated them slightly lower.
But there's hope. While online dating trends indicate that racial prejudice still runs deep, we're entering an era in which interracial romance is gaining wider acceptance and visibility. Today, the Council on Contemporary Families estimates that half of all Americans "have dated someone from a different racial group." While interracial daters still face barriers regarding social support and public displays of affection, the rate of interracial marriage is at an all-time high at 8.4% of all American marriages, according to the Pew Research Center.
"About 30% of Asian marriages are interracial marriages, but there is a stark gender imbalance here; twice as many Asian females outmarry than Asian males," said Lee. "So to pair Kimmy and Dong pushes many boundaries because it's not the norm in any typical sense. But seeing more diverse characters on TV and more diverse romantic pairings is great for audiences." 
While the racial representations in the series as a whole are far from perfect, Unbreakable Kimmy Schmidt is giving us a look at interracial love that's healthy, happy and absolutely normal — in other words, the kind we need to see more of.
h/t Fusion
Correction: March 11, 2015