John Legend and Sam Smith's Version of "Lay Me Down" Is Even Better Than the Original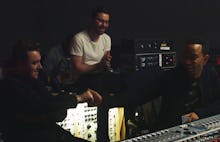 John Legend and Sam Smith recently met in the studio to record a version of Smith's beautiful single "Lay Me Down" for the U.K. charity event Red Nose Day. With the stripped down instrumentation and the addition of Legend's sultry croon, it's even better than Smith's original. Each of these pop stars is a model for what pop musicians can — and should — do with their fame. When they meet on Smith's song, sparks fly.
Smith and Legend have two of the most distinctive and resonant voices in music today. They've both been absolutely dominating the award show circuit and ruling the charts. They've done this all while maintaining a striking social and political consciousness in their appearances.
Legend said in a statement accompanying the track that he's been trying to get in the studio with Sam for a while. They have some surprising musical chemistry. But it's the harmony between their social agendas that really matters.
One hundred percent of the tracks' proceeds will go towards Red Nose Day, a charity event hosted by the U.K. organization Comic Relief. It takes place every two years to offer support to disadvantaged people in the U.K. and in Africa. It's mission is to "drive positive change through the power of entertainment."  The organization raised over 950 million pounds since their founding in 1985, addressing global issues such as poverty, education and domestic violence. Smith's new "Lay Me Down" video shows some of the scenes from an African village that Comic Relief's program benefits.
"I recently visited a Comic Relief-funded project in my hometown which supports the young LGBT community in London," Sam Smith said in a statement, according to Billboard. "I'm extremely proud that my single will help raise money for projects like this and many others in the UK and across Africa."
Smith and Legend will perform the song together at Red Nose Day's "Face the Funny" event on March 13, which will be broadcast on BBC One. Support the charity by picking the single up on iTunes or streaming it when it goes up on Spotify.
h/t Billboard