Bill Cosby Releases Video Ignoring Rape Allegations and Doubling Down on Comedy Career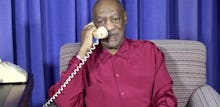 Bill Cosby is not giving up.
After nearly three dozen women have come forward and publicly accused the comedian of sexual assault, The Cosby Show star released a video statement ignoring the allegations and assuring his fans he'll still be performing his upcoming comedy shows despite the growing scandal. 
The 10-second clip, which ABC News aired Monday morning, shows a relaxed looking Cosby lounging in silk pajamas, telling someone on the other end of a phone, "I'm far from finished." The line is both a reference to his recent live-taped comedy special Far From Finished, and a sign that he'll continue to tour and perform regardless of the growing chorus of women accusing him of sexual assault. 
Take a look:
"And you know I'll be hilarious," Cosby says in the video. "Can't wait."
Cosby made no mention of the allegations in the video. He also ignored the criticism being levied against him for his alleged actions. This video message is one of the few times Cosby has made a public statement since the allegations started pouring in last year. 
Attached to the video was a message from Cosby: "Dear Fans, I hope you enjoy my wonderful video message that's filled with LAUGHTER. Hey hey hey, I'm Far From Finished."
According to TicketMaster, Cosby has several shows scheduled around the country in cities such as Baltimore, Atlanta and Charleston, West Virginia. 
Cosby has yet to publicly address the rape and sexual assault allegations. Given his non-responses so far , it's unlikely he will say anything substantial publicly, at least until he has to. Last month, two women who have accused Cosby of sexual assault stepped forward to say he committed some of the acts in Canada. Canada does not have the same statute of limitations legislation as the U.S., meaning it's possible he could still be charged for acts he's accused of committing years ago. If this happens, Cosby would most likely have to testify in court. 
But it shouldn't take a potential court order for Cosby to address the growing body of evidence against him. Though Cosby has tacitly denied the allegations by refusing to comment and even joking on stage about "fact-checking," until he formally addresses the allegations, a shroud of questions will surround the once-beloved comedian. By staying silent on the issue, Cosby believes he is protecting himself and standing behind the tenet of "innocent until proven guilty." And while it's true we can't assume guilt until it's been proven, as long as Cosby remains silent and his accusers remain vocal, the truth can never be revealed.
Until that happens, all we'll get are these strange messages from a man wearing silk pajamas.