In One Quote, Kristen Stewart Nails What Really Makes a Person Hot as Hell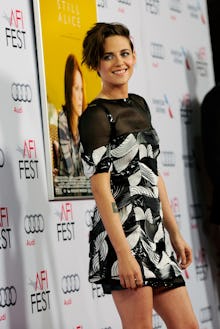 When it comes to looking for a partner, we can get so hung up on the traditionally desirable (and often overhyped) qualities — smarts, humor, honesty, success — that we lose sight of what we really want when we're in a relationship.
But leave it to Kristen Stewart to drop the bullshit and get real. In a new interview with CR Fashion Book, the actress spoke candidly about what she finds most irresistible in a partner:
"For me, the most attractive thing in a person is drive — genuine impulse expressed for the sake of it, not for perception. I think that's hot. Whenever I see someone doing something and it looks like they just couldn't not do it and they just need to get it out. They need to create. It's a compulsion, and I share that."
Stewart explains that someone's drive is evident the instant you meet them. "It's indescribable. It's just a burn. You can sense it pretty instantly, this innate curiosity, because not everyone has it," she told the magazine. "That's what I'm fucking attracted to. If you meet someone who fuels you, or say you're in a room and someone walks in and they've got that vibration, people want it."
In her description, Stewart illustrates a much-needed distinction between professional drive and creative drive. Often when we assess a potential date, it's in terms of career success — what their job is, how much money they make, how motivated their are with professional ambition. In fact, Match.com's 2015 Singles in America survey found that some of the top desirable qualities for a potential partner are career drive, financial support and intelligence. 
But Stewart's description hones in on a different kind of drive, something we may desire in our partners but have a hard time naming: the drive of a personal passion.
Passionate pursuits: Pursuing a personal interest with your own skill set, motivated by your own desires, can be incredibly attractive. In her TED talk, relationship therapist Esther Perel argues that when we see our partner doing things they're utterly immersed in, we recall our desire for them: "[We] stay open to the mysteries that are standing right next to each other ... What is most interesting is that there is no neediness in desire."
In short, when we see our partner onstage or playing a song or holding court at a party, we get an entirely new perspective on who they are, the Huffington Post reports. That instinctual curiosity about what our partners have to offer can be the glue of desire. As Stewart says, "You're like, 'Wow, I don't even know you but I want something from you. I feel you can give me something. It's not a selfish thing, it's happening with you, and it's mutual.'"
Plus, passion itself is emotional, and we can often find ourselves caught up in the emotional drive of someone else. "When you feel passionate about something and you can communicate that passion to other people, they can't help but feel connected to it," writes Harris O'Malley on DoctorNerdLove.
Keeping the flame alive: Maintaining a personal passion outside of the relationship also contributes to the long-term health of the relationship itself. A 2012 study from Stony Brook University found that partners who maintained a lust for life outside of the relationship often have the most long-lasting and intense love lives. For women in the study, "passion about nonrelationship factors significantly correlated with intense love." 
Part of that is because passions help those within a relationship maintain a healthy sense of independence, confidence and positive feelings towards their own lives, making them happier partners to be with.
That's one reason we find creativity so sexy. A 2014 study from the University of Pennsylvania found that aesthetically creative individuals (the musicians, painters and photographers) were viewed as the sexiest types of ways to be creative because they evoke the strongest emotions in others. More money-oriented creative careers, like creating ad campaigns or writing original computer programs, scored lower for attracting new partners. The difference, it would appear, is the passion; certain free-thinking creative types seem to have a certain "vibration," to use Stewart's word.
In fact, the star's wise focus on passionate drive in partners might be the very ingredient we're all missing from our dating profiles. Love is about more than just passion between partners — it's about the passions of the people themselves coming together.