Powerful Photos Show Students Gathering in Protest After Leaked Racist Frat Video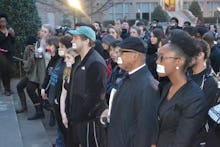 These University of Oklahoma frat boys thought they could get away with harassing and mocking their fellow students with a racist chant. But thanks to a 10-second clip shot on a cellphone camera, they've inspired national outrage.
The racist video, featuring Sigma Alpha Epsilon fraternity members singing "There will never be a n*gger in SAE / You can hang him from a tree, but he'll never sign with me," has resulted in a massive outpouring of anger, support for the University of Oklahoma's black students and protest. First posted online by black student activist group Unheard, students are responding to the video with campus-wide demonstrations.
The Oklahoma Daily, the college's student newspaper, as well as members of the campus community, documented activists protesting by taping their mouths shut to demonstrate solidarity with fellow University of Oklahoma students who feel silenced by racism:
Many of these same protesters posted notes on the wall of the student union and the office of student affairs to air their grievances:
Rapper Waka Flocka Flame canceled his scheduled appearance at the frat's "jungle" party:
Elsewhere, protests covered campus:
Someone defaced the frat house's walls with graffiti saying "Tear it down."
Using the hashtag #SAEHatesMe, affronted minority students at the school aired their grievances with the school's Greek culture, lackluster approach to race issues and administration. Others used the hashtag to weigh in on how casual racism is tolerated and embedded in American culture.
Between the time the video was posted on Sunday night and Monday morning, the Washington Post reports that the fraternity's national leadership decided to suspend the Oklahoma chapter of SAE. 
The paper also revealed that SAE had a strong historical connection to the Confederacy. On its website, SAE writes that it is "the only national fraternity founded in the antebellum South" and notes that the "fraternity had fewer than 400 members when the Civil War began. Of those, 369 went to war for the Confederate States and seven for the Union Army."
In a statement posted on Twitter, university president David Born said, "I have been informed of the video, which shows students engaging in a racist chant. We are investigating to determine if the video involved OU students. If OU students are involved, this behavior will not be tolerated and will be addressed very quickly. If the reports are true the chapter will no longer remain on campus. This behavior is reprehensible and contrary to all of our values."