12 Incidents That Prove Fraternity and Sorority Racism Isn't Just an Oklahoma Problem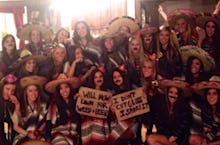 As news broke Monday about the Oklahoma Kappa chapter of Sigma Alpha Epsilon singing a racist chant, many online discussions highlighted that these incidents are nothing new on college campuses. 
Perhaps the only exception this time was that the event in question was caught on tape. In reality, this has been happening at fraternities and sororities for several years .
That didn't stop some from issuing fervent defenses of the Greek system, charging that "not all" fraternities and sororities have issues with racial bias and a lack of cultural competency. While it's true that not all of them engage in this kind of behavior, the tendency to reject any personal accountability does little to further the dialogue about lingering racism on college campuses. On the contrary, this "not all" defense derails the focus from what's proven to be a persistent trend at many schools, at a time when we should instead be examining how to meaningfully address how the larger problem.
For anyone who may still wonder whether or not these incidents are a widespread problem, here are just a few recent examples of racism in Greek life:
1. Sigma Alpha Epsilon at Clemson University: "Clemson Cripmas"
As Mic reported in December, the Sigma Alpha Epsilon chapter at Clemson University displayed their racial ignorance with a "Crips"-themed holiday party, mere days after a Staten Island grand jury voted not to indict the police officer who killed Eric Garner. "The fraternity invited revelers to wear bandanas, sagging pants and Tupac shirts to celebrate 'Clemson Cripmas,' a reference to the Crip gang, which originated in Los Angeles and is composed primarily of black members," Mic wrote.
2. Tau Kappa Epsilon at Arizona State University: "MLK Black Party"
In a twisted commemoration of Martin Luther King Day in January 2014, the Tau Kappa Epsilon fraternity at Arizona State University hosted an "MLK Black Party." Attendees wore basketball jerseys, sagging jeans, caps and sunglasses and held drinks in watermelon cups, playing not only on "thug" tropes but also racial stereotypes about black people having a strong affinity for watermelon slices. The chapter was eventually expelled from the university. 
3. Kappa Sigma at Duke University: "Asia Prime" party
Heralded as the big return of Duke's Kappa Sigma chapter, the fraternity's brothers welcomed fellow students to what was eventually dubbed by concerned community members as a "racist rager." Leaked photos showed revelers clad in Sumo wrestling outfits, conical hats and posing with peace signs and praying hands, all of which play on tropes of East Asian people. The invitation itself, as posted on the Duke Asian Students Association Facebook page, included phrases such as "Herro nice Duke peopre" and "Chank you," a clear nod to stereotypes of how some Asian people speak English. 
4. Chi Omega at Penn State: "Mexican-Themed" party
A leaked photo from this December 2012 party at Penn State featured with a picture of Chi Omega sisters posing with sombreros, mustaches and ponchos, holding up cardboard signs with the messages "Will mow lawn for weed + beer" and "I don't cut grass, I smoke it." The chapter was eventually shut down by its national organization in early 2014. 
5. Phi Sigma Kappa at Cal Poly State University: "Colonial Bros and Nava-Hos" 
This Thanksgiving 2013 party, which reportedly involved multiple organizations, included men "dressed up in colonial-era costumes and women [wearing] scantily clad Native American-themed oufits," as reported by NBC News, according to the Daily Mail. The university's investigation eventually found that no campus policies were directly violated by the party. The event doesn't at all pay homage to Native American contributions in history; rather it culturally appropriates their clothing and other cultural traditions for the sake of a drunken rager. 
6. Lambda Theta Delta at University of California, Irvine: "Installs" event
In a video invite for an event welcoming the chapter's new brothers, an April 2013 video showed members of Lambda Theta Delta dancing to the Justin Timberlake song "Suit & Tie," with one member performing in blackface. As Gawker noted, the organization eventually released a formal apology on Facebook after receiving backlash from campus multicultural groups and the start of a university-led investigation.
7. Fiji at the University of Texas at Austin: "Border Patrol" party
As reported by the Daily Texan, the February "border patrol"-themed party featured guests donning construction gear, ponchos and sombreros. And, sure enough, other guests wore army camouflage outfits, purportedly representing the armed officials employed to track down Mexican and other people who make attempts to enter the United States from Mexico. It's an offensive play on a violent, real-world reality wherein Latino people in border states get racially profiled, which also plays out in actual policy.  
8. Kappa Alpha Theta at Columbia University: "Beer Olympics" party
Dressed similarly to their Chi Omega counterparts at Penn State, members of the Kappa Alpha Theta sorority at Columbia University held a February 2014 mixer that featured five competing "teams:" The Mexicans, the Jamaican Bobsled Team, Japan, France and the Netherlands. 
The sombreros, mustaches and tequila bottles recall the Mexican stereotypes and tropes often played up on Cinco de Mayo, where cultural appropriation railroads a historical event. The "Japan" team not only threw chopsticks in their hair, they wore headbands with the country's flag on it and mimicked East Asians, some of whom frequently pose in photos with v-signs. 
9. Theta Xi at the University of Michigan: "Hood Ratchet" party
The November 2013 party invitation proclaimed the event was for "bad bitches, white girls, basketball players, thugs and gangsters" and "ratchet pussy," as Gawker noted. A formal university investigation, along with pushback from fellow students regarding the party's black stereotypes, "thug" tropes and misogynistic characterizations of black women, got the party canceled. 
10. Kappa Alpha at Randolph-Macon University: "USA vs. Mexico"
In addition to playing on tropes of Mexicans while wearing sombreros and mustaches, a WWBT report highlighted that some at the November 2013 party played drinking games that involved "Americans" making an attempt to "catch illegal immigrants."
11. Alpha Delta and Tri-Delta at Dartmouth College: "Bloods and Crips" party
In July 2013, two Greek organizations at Dartmouth collaborated on a "Bloods versus Crips" party, where many of the 200 students in attendance students carried around 40-ounce bottles of beer and malt liquor in brown paper bags. An email invitation had instructed them to "choose wisely" which gang they'd represent.
12. Delta Upsilon at University of Chicago: "Conquistadors and Aztec Hoes"
As reported by the Chicago Maroon, the party's description asked guests to arrive with "an unlimited need to conquer, spread disease and enslave natives." As word spread and controversy ensued, the report noted, the fraternity's members made attempts to rename the party and distance themselves from the original theme. (To note, the group wasn't officially recognized by the university.)