Mumford & Sons Just Released Their First New Song in Years — And It's Awful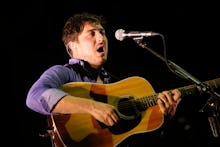 On Monday afternoon, Mumford & Sons released the new single, "Believe," from their forthcoming May 4 release, Wilder Mind. With the album announcement, they've promised a departure from their folk-pop roots, and "Believe" delivers. The band has traded its signature banjos for cheesy electric guitars, Coldplay effects and blander lyrics than usual. It's honestly sort of impressive. 
Mumford & Sons start the song with atmospherics that are nearly identical to Coldplay's "Every Teardrop Is a Waterfall." As promised, "Believe" attempts to make use of electric guitars, but the song totally lacks anything nearing the emotional weight of songs like "I Will Wait," which already didn't ring entirely genuine. Unfortunately, this new track is just another generic arena-rock snooze-fest. 
In some ways, though, this might be truer to the band's roots, particularly in the lyrics. The title is a clear indication of the song's love-as-faith message, and the lyrics hammer it home again and again. The refrain is "I don't even know if I believe / I don't even know if I believe." It's about a relationship, but it's also, likely, about faith writ large. Marcus Mumford was raised a devout Christian, and it's more obvious than ever on "Believe." The band has long been thought of as partially Christian rock even though it doesn't apply equally to the whole band. They've adamantly denied the label from the beginning, but "Believe" is undeniably a Christian love song. 
"It pisses me off," banjoist Winston Marshall told Q magazine in 2013. "Just being thought of as a Christian is pretty annoying. Not that there's anything wrong with it. But just being told you're anything when you're not."
Perhaps, then, we might suggest a different title for your triumphant resurrection single?