44 Years After His Death, Jimi Hendrix Is Back With a Never-Before-Heard Song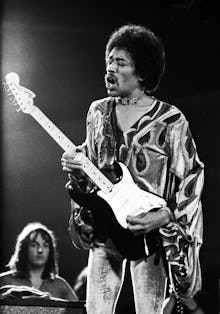 Before he became Jimi Hendrix, arguably the most famous guitarist of all time, James Hendrix was a lowly hired gun. He got his start gigging with rock and soul bands like Little Richard, the Isley Brothers and a New York-based R&B group, Curtis Knight and the Squires. Few recordings from this era exist. But on Monday, the Daily Beast premiered a never-before-released track from Hendrix's Squires era. 
Written by a fresh-faced Hendrix, this new track, "Station Break," is a fascinating look at the humble beginnings of the legend-to-be:
Hendrix's chops are evident on this 1965 recording, but the ferocious experimentation on which Hendrix would later make his name are still under wraps. That Hendrix wouldn't begin emerging for another year, when Animals bassist Chas Chandler discovered him in 1966 and brought him to England to form the Experience, as the Daily Beast recounts.
With that band, Hendrix would go on to completely remake guitar music as we know it. By embracing feedback and dissonance, he laid the groundwork for heavy metal, writing two of its earliest songs with "Purple Haze" and "Voodoo Child (Slight Return)." He popularized the practice of abusing instruments, taking the practice further than most have ever dreamed of by playing his guitars with his teeth and lighting them on fire while on stage. He introduced a fury that ignited generations of rockers.
"Station Break" offers us a glimpse of the styles that launched Hendrix. It all started with these blues riffs, before becoming something entirely alien. The Experience Hendrix LLC, which manages the artist's legacy, fought tooth and nail for decades to acquire these early recordings, and they're finally ready for the public to hear. "Station Break" will appear on a collection of early Hendrix material titled  You Can't Use My Name: Curtis Knight and the Squires (Featuring Jimi Hendrix) , coming March 24. Prepare to hear Hendrix as no one has before.
h/t The Daily Beast
Correction: March 10, 2015
The original version of this article's headline said Jimi Hendrix died 50 years ago. He died 44 years ago on Sept. 18, 1970.