Here Is the Amazingly Original Place Americans Are Going on Their First Dates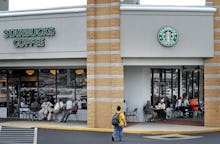 If potential suitors get points for originality, then plenty of Americans aren't faring too well.
The dating app Clover recently studied the preferred first date spots of 200,000 Clover users and turned up this thrilling finding: We're all taking our first dates to Starbucks.
OK, not all of us. Clover, a dating app that resembles Tinder but with a much smaller user base (it doesn't rank among the top five dating sites in terms of reach), surveyed users ages 18 to 65 through the app's "On-Demand Dating" service. The feature, which was announced back in November, lets users actually plan and schedule dates via the app, fixing one of the biggest problems with online dating: lots of swiping and chatting, with no actual dating.
Studying the data on where its users were planning these days, Clover found Starbucks to be the most popular spot across the board. In fact, coffee shops are the most preferred spot for women, while men prefer to meet at restaurants. 
"We were surprised to see most people choosing to meet at coffee shops and casual restaurants for their first date," Clover CEO Isaac Raichyk said in a press release sent to Mic. "We expected fine dining, bars and nightclubs to rank much higher, but clearly people want to meet in a relaxed environment."
The relaxed environment shouldn't actually be much of a shock. Dating has gotten increasingly casual by pretty much any measure, to the point where we often don't really know whether we're on dates or not. According to a 2013 survey, 69% of daters have been somewhat confused about whether the "outing" they were on was a date or not. 
(Adding to the confusion are those who think the rules are more ironclad than they are. As 27-year-old Jay* told Mic, "Drinks and dinner are dates, lunch and coffee are business." His dates might not realize that.)
Going out to coffee as opposed to dinner at a formal restaurant has the benefit of maintaining the casual air, both with the ambiance and the cost: The high cost of dating causes plenty of us anxiety, and doing coffee takes the pressure off both sides of a date for it to live up to the high tab.
But the main reason to do coffee — or even a bar — over a restaurant? Being trapped.
"If they say restaurant, I usually push for a drink," Lila, 26, told Mic. "If it's massively awkward, I don't want to be stuck at dinner."
"[The choice of a restaurant] strikes me as odd, because not only are we trapped in a restaurant for at least an hour, but inherently the awkward 'who pays the bill' stakes are higher, as dinner costs more than drinks," said Ray, 26.  
That said, those with more exciting or original options in their areas might reconsider those oh-so-romantic green awnings and Frappuccinos. "If someone wanted to go to Starbucks, I would probably say no right away," said Lila. "[If you] live in a place like New York City, there is no excuse for that."
* Some names have been changed to allow subjects to speak freely on private matters.