The Story of How Lady Gaga Became Famous Will Make You Like Her Even More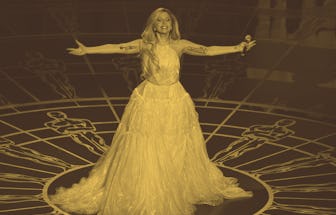 When Lady Gaga performed her Sound of Music tribute at the Oscars in February, many onlookers were genuinely surprised by Mother Monster's chops. Critics had assumed she was all meat dress and no talent, all schtick and no skill. How wrong they were. "I have always been an artist," Gaga told the Telegraph in 2010. "And I've always been famous, you just didn't know it yet."
In fact, the whole story of Gaga's career is the story of her resilience. From bullying to bad reviews, Lady Gaga is always overcoming. The story of how she got to where she is now is one of the most inspiring in music.
Born Stefani Joanne Angelina Germanotta in 1986, Gaga was raised by Italian-American parents. She and her parents — Joseph, an Internet entrepreneur, and Cynthia, a Verizon executive — lived in a duplex on the Upper West Side of Manhattan. Gaga is known for her work ethic and her studiousness — and it started because her parents cared deeply about education from a young age and enrolled their daughter at Convent of the Sacred Heart, an Upper East Side private Catholic school. That's where the merciless bullying began.
"I used to do these really big Evita brows," Gaga told Rolling Stone in 2011. "I used to self-tan, and I had this really intense tan in school, and people would say, 'Why the fuck are you so orange, why do you do your hair that way, are you a dyke? Why do you have to look like that for school?' I used to be called a slut, be called this, be called that. I didn't even want to go to school sometimes." 
But Gaga credits that bullying, for better and for worse, with her drive to overcome. "Bullying really stays with you your whole life," she told Yahoo CEO Marissa Mayer. "And it really, really never goes away. And I know you're using words like 'superstar' and 'most-Googled' and 'billions of YouTube [views].' But I was never the winner. I was always the loser. And that still stays with me. And do I want to stick it to anybody? No. I just wanna make music."
She's had that drive since a very young age. When Gaga turned 11, she started taking vocal lessons from Christina Aguilera's singing coach, Don Lawrence. She still takes lessons from Lawrence to this day; to prep for her Sound of Music tribute, Gaga practiced with him every single day for half a year leading up to the performance. As a kid, she learned classical piano and took a full day of acting classes every Saturday. She never underestimated the value of thoughtful study — as a child in a classic rock cover band or as a grown superstar.
"I was classically trained as a pianist and that innately teaches you how to write a pop song," Gaga told the Telegraph. "Because when you learn Bach inversions, it has the same sort of modulations between the chords. It's all about tension and release."
But she knew she had to break the mold. Though always grateful for her education, Gaga wasn't afraid to take risks. After surviving high school, Gaga enrolled in NYU Tisch School of the Arts, but it wasn't long before she dropped out to become a rock star. "I left my entire family, got the cheapest apartment I could find and ate shit until somebody would listen," she told New York Magazine. 
It seemed like she'd be successful at first. At 19 years old, Gaga signed to Def Jam records. But after three months, the label delivered a crushing blow and dropped her. "It just wasn't for them," she told the Sunday Times. By then, she was used to bouncing back.
To her father's chagrin, Gaga had moved to the Lower East Side, where she dabbled in cocaine and danced in dive bar burlesque shows. "I was onstage in a thong, with a fringe hanging over my ass thinking that had covered it, lighting hairsprays on fire, go-go dancing to Black Sabbath and singing songs about oral sex," she told the Telegraph.
But in 2008, Gaga's then-boyfriend Rob Fusari brought Gaga to Interscope records as a songwriter, where she composed hits for New Kids on the Block (whom she also toured with early on), Fergie, the Pussycat Dolls and Britney Spears. While singing a reference vocal for a song she had written, Gaga caught the ear of R&B songwriter Akon; he signed Gaga to his own label. Her moment had come.
Within the year, Gaga had released her first album, The Fame, to critical and popular acclaim. "It'd be easy to dismiss a 22-year-old debut artist sporting a blonde Cher wig, hooded Catwoman suit and glowing staff she calls the 'disco stick' — but not if she delivers an album full of hits," Billboard wrote in their praising review. "The full-length The Fame proves she's more than one hit and a bag of stage tricks." The album went on to sell more than 4 million units. It made her a legend, and she began returning the favor to her fans almost immediately.
She still knows how to pick herself back up. After the critical and relative commercial flop of Artpop, it was clear that the act that made her famous wouldn't do it for her any longer. So, four albums and seven years since her fame exploded, Gaga is staging another reinvention. Last year, she released an album of jazz standards with famous crooner Tony Bennett that went on to win a Grammy. And while many were surprised at Gaga's pivot from live antics to stripped-down solos, she's always been a musician first and foremost. "She won a jazz competition when she was about 14 or 15," her dad told the Telegraph. "That was her roots: She was trained in jazz. It's a great foundation for singing."
Gaga has been many things in her career — fashion icon, sex icon, provocative pop chanteuse. But she has been, most importantly, a singer and a resilient star. Her latest Grammy, and her stunning Sound of Music tribute, earned her hard-won praise for being a fantastic musician. They proved, though, that most importantly, Gaga doesn't need anyone's approval to be a star. That's something she does for herself.