Ben Stiller Just Announced 'Zoolander 2' in the Best Way Possible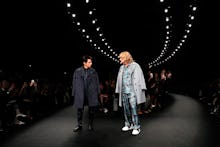 If there were ever a more perfect way to announce a new movie, it's lost on us because Zoolander 2 has slayed all past and future competition:
Ben Stiller and Owen Wilson, the pouty-faced stars of the first Zoolander movie, made the sequel official Tuesday during a surprise, in-character appearance at the Valentino runway show at Paris Fashion Week. 
Here's a look at the runway strut: 
Paramount Pictures later confirmed that the runway walk was more than a stunt, tweeting that the movie will be released Feb. 12, 2016.  
Stiller and Wilson, in character as Derek Zoolander and Hansel McDonald, respectively, were sporting some serious threads. Business Insider reports Stiller wore "a custom Night Butterflies brocade suit with hand-embroidered overcoat and black Creeper shoes," while Wilson sported "a silk continent-print pajama suit with double cashmere overcoat and open sneakers."
Vogue has excellent backstage shots, including a group photo featuring none other than Anna Wintour:
The sequel had been in the works for some time. In 2011, Stiller confirmed the plot details of Zoolander 2, and Empire reported it would have a "strong European vibe" and take place 10 years after the original movie. Hansel and Zoolander are "both totally out of it and have to start from scratch," Stiller told Empire.
In 2012 the movie was still in limbo; Stiller told Collider at the time: "We have a script, as we've had for a little while, and it's not quite coming together right now, but I hope it does. I would like to do it at some point in the future."
If Tuesday's surprise announcement is any indication, Zoolander fans are in for a treat.