2 Years Since Cutting Taxes on the Rich, Here's What Happened to the Economy in Kansas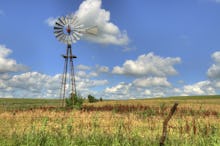 In 2010, Republican Sam Brownback was elected governor of Kansas on the strength of a promise to slash taxes for the state's highest earners and eliminate them almost entirely for nearly 200,000 private businesses — a program he would later call a "real live experiment" in conservative government.
The next year, with those policies making their way through the state legislature, one of the new governor's top economic aides, voodoo economics guru Arthur Laffer, promised a coming "revolution in a cornfield." What seemed like a tea party pipe dream was, in Brownback's Kansas at least, about to become reality.
By the middle of 2012, he had delivered on his campaign promises, cutting taxes and abolishing state agencies. "My focus is to create a red-state model that allows the [2016] Republican ticket to say, 'See, we've got a different way, and it works,'" Brownback told the Wall Street Journal in early 2013, soon after the policies began to take effect.
But as Brownback enters his fifth year in office, the high-minded talk about revolutions and experiments has all but disappeared. Starved for funds by the missing tax revenue, Kansas has entered and remains trapped in a devastating fiscal crisis — the byproduct of tragicomically inept fiscal mismanagement by Brownback and his Republican allies. With multimillion-dollar deficits and job growth that lags far behind the national average, the "experiment" has failed and the state's schoolchildren, its poor and even its businesses are feeling the hurt.
The nightmare: After spending more than 14 years in the U.S. Senate, Brownback left Washington D.C., in 2010, figuring correctly he could ride the tea party wave into the Kansas governor's mansion.
Taking office, he set forth with a remarkable policy proposition he later promised would give the state economy a "shot of adrenaline." By 2012, the state legislature was on board, and Brownback signed a bill to drastically reduce income tax rates for high-earning individuals and eliminate taxes on profits for about 200,000 Kansas businesses.
For Brownback, this was the high point. He had successfully enshrined his conservative fiscal principle into state law. Now it was time to sit back and watch the magic happen. At least, that was the plan.
The first signs of trouble were subtle. The tax cuts, which were supposed to attract business, failed to deliver the promised spike in employment. Kansas trailed more balanced and disciplined states — like Minnesota, whose economy began booming after the state raised taxes and the minimum wage — as well as the nation as a whole in the race to create jobs.
"After the tax cuts became law in January 2013, the number of Kansas' private sector jobs went up only 2.5% through November 2014," the Kansas City Star recently reported. "That was below 37 other states (including Missouri) and Washington D.C. Put another way, Kansas has gained employment faster than only 12 other states since the tax cuts took effect." The state also trails the overall U.S. job creation rate, which has grown 5% over that same period of time.
Because of revenue shortages caused by the historic tax cuts, Kansas has stripped funding to higher education, social services and most controversially, primary schools. Staring into the abyss of historic deficits, Brownback in February reacted by again proposing to shave as much off the education budget as he could within the boundary of the law after a court declared his initial budget violated a state statute.
On its current path, Kansas is expected to be in a $900 million hole by 2019. This year, the state is facing a $279 million budget gap — a stunning reversal for a government that had a $700 million surplus just two years ago.
Going socialist: For his part, Brownback has been mostly quiet on the nearly impossible assortment of self-made disasters — confronted with the reality that his grand scheme is coming apart, he has offered only a broad smattering of pledges to work with legislators to sort out the pending crises. Brownback's office did not respond to Mic's request for comment.
But he has begun to look to the federal government.
Like most conservative Republican states, Kansas did not to set up an Obamacare insurance exchange and refused federal cash to expand its Medicaid program. But that decision has slowly entered the public debate as the state's economic straits turn more dire, with hospitals and private health care providers worried that the current crisis might keep them from being paid. Now, after years of railing against Obama's insurance overhaul, it's looking more like Brownback is seriously considering accepting new funds from Washington.
"I've been pushing that anything we do on Medicaid expansion has to be 100% paid for," Brownback said last week, according to the Lawrence Journal-World. "I haven't said we'll take it. I haven't said we wouldn't. Last year, I signed the bill that the legislature passed (saying) that the legislature had to approve any Medicaid expansion."
Brownback has sought to save precious dollars by lowering Medicaid expenditures on his own. A ThinkProgress analysis from October 2014 revealed the toll these cuts have taken on some of the state's poor and disabled population, noting that "Since Brownback's inauguration, 1,414 Kansans with disabilities have been forced off of the Medicaid physical disability (PD) waiver."
The way forward: Brownback has offered no indication he has any intention of asking the state legislature to roll back the broad strokes of his initial tax plan. Nominal concessions, like a forthcoming spike in sales taxes on alcohol and tobacco, won't unwind Kansas' debt spiral — quite the opposite, they'll worsen the burden on middle- and low-income residents.
For now, Brownback seems comfortable clinging to his doomed formula and blaming the press, whom he says "misrepresented" how fast his policies would take to get rolling.
But there is a path forward, one pioneered by Brownback's fellow Republican governors. Indiana's Mike Pence and Ohio's John Kasich have accepted Obamacare Medicaid funds without dulling their political stars. In following their example, Brownback could begin the long process of reinforcing a tattered social safety net while also freeing up some money for the schools.
Still, no single decision can do enough to fully extract the state from a ditch legislators and the governor have spent years happily digging.
When the writer Thomas Frank first asked "What's the Matter with Kansas?" it was more of an existential plea — a question about the conservative-liberal divide in American society. Today, the issue has become more literal: What is actually wrong with Kansas? The answer: More than anyone in its current government is equipped to fix.