Snoop Dogg Is Finally Making Great Music Again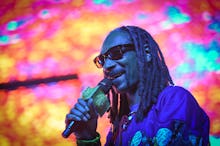 On Tuesday morning, Snoop Dogg released "Peaches N Cream," the first single off his forthcoming album, Bush, due out May 12. With the help of Pharrell and R&B legend Charlie Wilson, Snoop's new single is the best track he's released since 2004's "Drop It Like It's Hot."
"Peaches N Cream" isn't the first time Snoop has worked with Pharrell. The combo started working together back in 2002 on "Beautiful" (Wilson was featured on that track too). Then in 2004, Pharrell and Snoop made "Drop It Like It's Hot." Those songs were massive hits, and "Peaches N Cream" is on track for the same kind of reception.
A lot has happened since then. Between "Drop It Like It's Hot" and Tuesday's release, Snoop ventured into reggae, taking a pilgrimage to Jamaica, releasing an album called Reincarnated and briefly renaming himself Snoop Lion. "Snoop Dogg is dead, long live Snoop Lion," the Guardian declared. It was a weird time — one that suggested that perhaps Snoop had lost his touch. But now it's clear that Snoop Dogg is resurrected and "Peaches N Cream" is just the beginning. 
"[Bush] is a great record me and Pharrell did from top to bottom," he told MTV. "It's different — it's completely different than anything we've ever done. It feels good, sounds good, looks good." 
In addition to dropping his new single, Snoop and South by Southwest announced that the hip-hop legend is this year's keynote speaker on March 30. From the sound of his new stuff, he'll have a lot to say. His reggae album may have been called Reincarnated, but it's clear that Snoop is only now being reborn.