Unarmed Black Man Shot by White Cop Outside Atlanta — Witnesses Report His Hands Were Up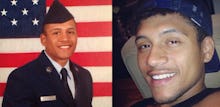 A white Atlanta-area police officer shot and killed an unarmed black man Monday. According to reports, the victim was naked, and at least one eyewitness claims he had his hands raised above his head.
Reuters reports that the Dekalb County cop, identified in the media as officer Robert Olsen, was responding to a call about a man "acting deranged, knocking on doors, and crawling around on the ground naked" at around 1 p.m. When the officer arrived, he found 27-year-old Anthony Hill, a veteran of the Iraq war who may have had bipolar disorder, naked and acting irregularly.
The shooting: Though reports have yet to be officially confirmed, Dekalb County Public Safety Director Cedric Alexander told reporters that Hill ran at the officer, who shot him twice after ordering him to stop. 
The New York Times reports that maintenance worker and eyewitness Pedro Castillo said Hill had "stood up and moved towards him with his hands raised, and the officer, obviously frightened, yelled for him to stop. Mr. Castillo said that he had not seen a scuffle, but that he did see the officer pull out the handgun and shoot Mr. Hill."
Since Hill was naked at the time of the shooting, it is unlikely that he could have been carrying any form of concealed weapon. Groundskeeper Julio Fernandez told the Times that he had never seen Hill acting intoxicated or aggressively, adding, "He was a calm, friendly person. To me, this was police abuse, because what can a naked person do?"
Alexander informed reporters that the officer had a stun gun, but did not know whether it had been fired.
The Dekalb County Police Department did not immediately return a request for comment from Mic about the status of the investigation into the shooting.
A troubling string of incidents: Despite widespread protests over the killing of unarmed black people like Tamir Rice, Eric Garner and Michael Brown at the hands of police officers, deaths keep rolling in. This is the third shooting of an unarmed black person in America since last Friday, March 6.
On Hill's Facebook profile, his last post from Monday morning now has ominous overtones: "Where i once saw death i only see life."
The U.S.'s recent spate of officer-involved killings clearly bothered him as well. Hill had previously commented directly on other police shootings of unarmed black men, in one post telling others to "show these kids that #blacklivesmatter by living yours like it does" and in another urging people not to be "the victim that becomes the antagonist and perpetuates the problem":
Where do we go from here? What is clear is that black people are disproportionately more likely to be shot by police officers, who rarely face serious disciplinary consequences even when there is evidence of misconduct. According to Mother Jones, studies on the racial gap in police killings have generally shown that black people are shot by police at higher rates than whites.
While many suspect that police shootings of unarmed black men are evidence of widespread prejudice among the nation's cops, somehow there are few reliable statistics on when and why police departments shoot black suspects.
FBI statistics voluntarily reported by police departments show between 169-211 officer-involved shootings each year over the period 2007-2012, but a 2014 Wall Street Journal investigation revealed that at least 550 killings over that time frame went unreported to federal authorities. And that's just in the 110 largest police departments in the United States.
This is the third shooting of an unarmed black man in four days. It's certainly not going to be the last. Hill is just the latest victim of the ongoing tragedy that confronts many black Americans every day, be it in Atlanta, New York or Ferguson. It's sad and senseless, but it does not show any signs of slowing down.