Anonymous Hackers Launch Cyberattack in Madison in Wake of Tony Robinson Jr. Shooting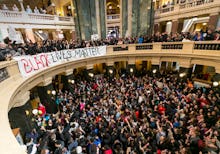 The police department in Madison, Wisconsin, was scrambling Monday night after a cyberattack targeted its website, email systems and in-car laptops servers.
The attack, which was resolved after a few hours according to the Wisconsin State Journal, appears to be the work of the hacker collective Anonymous. It came in retaliation of Friday's shooting death of unarmed biracial teenager Tony Robinson Jr. by white police Officer Matt Kenny.  
A report in Madison.com quoted police spokesman Joel DeSpain saying that Anonymous had taken responsibly for a cyberattack against the department.
In a YouTube video posted Sunday, Anonymous shared a message demanding that the Madison Police Department and its chief, Michael Koval, "release all audio and visual recordings from the scene immediately, and arrest the officers responsible for murdering Mr. Robinson."
The video threatened retaliation against Madison police and reminded listeners of previous mayhem they had left in the Ferguson Police Department after the August 2014 shooting of Michael Brown in the Missouri city.   
The group has something of a history with this kind of attack. They were responsible for a number of hacking attacks in Ferguson, which included downing websites, killing phone lines and publishing sensitive personal information from St. Louis police Chief Jon Belmar. The group also obtained and released a number of police dispatch tapes from the day of the shooting.
WISN-TV reported Monday that 100 students from local high schools had marched out of class in protest and that as many as 1,500 had gathered in the state's Capitol rotunda. They ranged from 13 years old to college-aged.
For now, though, the disruptions in Madison seem temporary — all systems were back up and running by Tuesday afternoon — but the attack underscores the increasing consequences that police departments across the country face amid biased or racially motivated killings.