Facebook Just Took a Major Step for Body Positivity on the Internet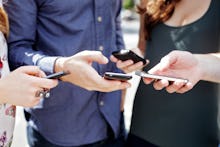 Good news: "Feeling fat" will no longer be a Facebook emoticon option that users can choose as a status message.
The former "fat" emoticon displayed a blushing, smiling face with a double chin, and was one in a range of other, more appropriate options such as "peaceful" or "entertained." The announcement comes weeks after a Change.org campaign was launched, in which activists warned Facebook that such an icon could encourage poor body image and disordered eating. The petition gathered more than 16,000 signatures.
"We've heard from our community that listing 'feeling fat' as an option for status updates could reinforce negative body image, particularly for people struggling with eating disorders. So we're going to remove 'feeling fat' from the list of options," a Facebook spokesperson said in an emailed statement to Mic. 
The move may encourage people within one of the Internet's largest social networks to rethink how they talk about their bodies, hopefully in a positive manner.
Ohio University graduate student Catherine Weingarten started the petition roughly two weeks ago, in collaboration with the international group Endangered Bodies. According to the Daily Dot, Facebook recently spoke with the body positivity collective about the emoticon. In the petition, Weingarten included an open letter to Facebook detailing her own experience with disordered eating and called on the site to use its influence to encourage people to talk to each other more positively about their bodies. 
"When Facebook users set their status to 'feeling fat,' they are making fun of people who consider themselves to be overweight, which can include many people with eating disorders. That is not OK," Weingarten wrote in the petition.
"Fat is a natural part of our bodies, no matter their weight. And all bodies deserve to be respected and cared for. I dream that one day the platform will actively encourage body positivity and self-esteem among its users, but for now, all I ask is that it stop endorsing self-destructive thoughts through seemingly harmless emojis."
Removing this emoticon is an important move. Although the "feeling fat" emoticon may seem relatively innocuous, it's not. According to studies cited by the National Eating Disorders Association, as many as 20 million women and 10 million men in the United States will suffer from a "clinically significant" eating disorder at some point in their lifetimes. Many cases will go unreported. 
In the BuzzFeed video "Fat Is Not a Feeling," poet and journalist Caroline Rothstein shared her experience of having and recovering from an eating disorder, as well as her journey toward having a more positive body image. 
"I witness all the ways the world tell bodies not to love themselves — from the billion-dollar diet industry to ... all oppressions. And I know that the choice to love my body is both revolutionary for my ability to live in my own body, and also the key to allowing me to love and respect other people's bodies," she said. 
"When I think I 'feel fat,' I remember that fat is not a feeling. ... So when I 'feel fat,' I know it means I'm feeling something else and it's worth figuring out what that is."
How we talk about our bodies matters. Not only does cultivating a more positive body image have implications for both physical and mental health, negative body talk on social media could negatively influence others by promoting harmful stereotypes and images of what bodies should look like. 
In an interview with Mic, Weingarten said she was surprised by both the encouraging response both on social media and the thousands of petition signatures. She said the campaign's success shows that positive messages about body image can indeed resonate with others, noting that the issue shouldn't be confined to feminist and body-positive spaces. 
"[This] shows that Facebook is open on issues that really could have harmed people in their lives and fostered bad self-esteem. I'm super grateful that they listened and realized this is an important issue," Weingarten told Mic. "Body positivity can sometimes be an invisible movement because, in mainstream culture, the message is 'be skinny' and 'diet.' We don't often see messages that talk about fat shaming and fat talk and the negative effects of that. So that Facebook looked a little closer at what we were trying to say is great."
The removal of the "feeling fat" emoticon isn't only a win for body positivity advocates, it's a win for everybody.