One Photo Captures the #BlackLivesMatter Protest Taking Wisconsin by Storm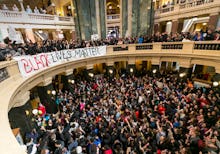 Andy Manis/AP
More than 1,500 protesters flooded the Wisconsin state Capitol on Monday in response to the police killing of unarmed black teenager Tony Robinson Jr., BBC reports.
The crowd, captured in the striking photo below, was mostly high school and college students carrying signs and chanting "black lives matter" and "justice for Tony."
Robinson on Friday became the latest unarmed black man killed by law enforcement. Madison police Officer Matt Kenny forced his way into an apartment the 19-year-old had entered and reportedly shot him after an alleged scuffle. The Madison Police Department says Kenny acted in self-defense, according to Vox. The 12-year veteran of the department is on paid administrative leave, ABC News reported.
The story of the shooting is uncomfortably familiar, and highlights many of the continued tensions around American race relations. Most glaring is the repeated targeting of black people by police — something we've seen before, with cases like that of Eric Garner in Staten Island, New York; John Crawford III in Beavercreek, Ohio; Michael Brown in Ferguson, Missouri; Ezell Ford in Los Angeles and others. Brown's death in particular made #BlackLivesMatter a rallying cry for racial justice, galvanizing activists and stirring unrest across St. Louis. 
The similarities linking all the incidents are remarkable — making it all the more interesting to see spokespersons and media working so hard to reassure us that Madison will not be another Ferguson.
If anything, such distancing looks like an effort to make what happened in Madison look exceptional, rather than part of a systemic pattern. CNN went so far as to tweet a graphic juxtaposing Madison and Ferguson, which focused heavily on citizen reactions to the killings and attributed none of the violence in Missouri to police escalation. This, despite the Ferguson Police Department's documented history of racial abuse and heavily militarized response to the protests in their city.
Twitter users rightly berated the outlet for the omission:
But CNN wasn't alone. Robinson's uncle, Turin Carter, spoke at length about his nephew's mixed heritage — his father is black and his mother is white — and how that meant there were "significant differences" separating his death from the others'.
"We don't want to just stop at 'black lives matter,'" Carter said at a press conference, according to ABC News. "Tyrell is a mixture of everything. You can't look at him and say he's black."
It's true that one ambition of a post-racial society is enabling people like Robinson to racially self-define. In such a world, his mixed background might relegate him to a category unto himself, and exempt him from disparities that define strictly "black" experiences.
But this is America. More specifically, this is Wisconsin, a state that's been called "the worst ... in the U.S. for raising black children," based on disparities they face in income, education and employment prospects. The state also has "the highest percentage of incarcerated black men in the country," NPR reports.
Robinson had past legal troubles, serving three years of probation for an armed robbery committed in 2014. Meanwhile, Kenny in 2007 shot to death a man brandishing a pellet gun. Both were actors in a system that disproportionately targets black men and funnels them into the criminal justice system in staggering numbers.
And clearly, that system didn't care how "different" Robinson or Madison are from the rest. Black lives still matter.