This Incredible Colombian Pop Star Is About to Make It Big in America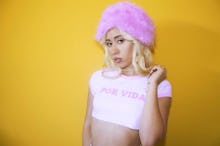 At just 20 years old, Colombia native Kali Uchis is an accomplished producer, songwriter and director. She has a wildly unique style that she calls "soul wop," but unlike most of today's pop stars, she's entirely in control of her image and music. 
To a large degree, she styles herself, she produces herself, she plays all the instruments on her records. And after a lot of hype, in February she released her first EP, Por Vida, with a little help from artists like Tyler, the Creator. And it's incredible.
Born in Colombia in 1994, Uchis grew up in the Washington, D.C. suburbs and is now based in Los Angeles. She told Hypetrak she's always felt "alien" but that helped shape her identity as a musician: "I was very much a loner and everyone thought I was a huge weirdo. I am very proud of my Colombian heritage; it's been a huge influence. It always made me feel separate from the people around me because I felt no one really understood me, where I came from and how I was raised."
For a pop star, she's a bit of a musical outsider too. As a kid, she started playing the saxophone, moved onto the piano and eventually became so proficient in music that now she plays all the instruments on her songs and self-produces her music. Uchis told i-D she was the first-chair saxophone in her school band. 
"It's kind of a goofy instrument to play," she said, but "melodies still come to me because of that musical grounding."
She's ready to be a style icon too. Uchis puts nearly as much emphasis on her style and visuals as she does on her music. She cites her biggest fashion icon, Brigitte Bardot, for inspiring her '60s mod-meets-street look. 
"I watch [her] movies and follow all the fan Instagram pages," Uchis said of Bardot, according to i-D. "There's even a folder of pictures on my computer dedicated to her. She's not given enough credit style-wise."
Unlike most stars, she had her image in place from the start. At 18, Uchis released her first mixtape, Drunken Babble. Her instincts were so honed that she finished the tape in just 48 hours. After the release, one of the first people to reach out to Uchis was Chris Braide, who co-produced Lana Del Rey's Born to Die. Music writers have drawn comparisons between Del Rey and Uchis before. The tape made waves almost instantly — everywhere from the pop to the hip-hop community. Snoop Dogg was an early fan.
"From the moment I [saw her video] 'What They Say' I knew Kali had something special," Snoop Dogg told Dazed Digital about Uchis' 2013 mixtape. "She has this authentic look that reminded me of that old-school low-rider culture ... I loved it, it left me wanting more."
The world is about to get a lot more of Uchis. She maintains full creative control of everything she does, from styling and directing her music videos to singing back-up and writing the instrumental parts. She shares those duties with others from time to time, but the direction and inspiration is all hers. With the buzz mounting and her crystal clear vision, it's only a matter of time before she blows up.
"I have my own vision for myself and my music, I have my own vision for the world and there are a lot of people who don't have that," Uchis told Dazed. "My entire life I have questioned everyone's perception of 'normal' or 'cool.' Free thinking and the power of visualization and creativity are the most beautiful things God could ever have given me and it would be disrespectful to not utilize those gifts." 
But Uchis is doing more than just using her gifts — she's also helping broaden mainstream perspectives on what makes pop music popular. With the exception of Selena Gomez, Fifth Harmony and Shakira, female Latina voices in mainstream pop are few and far between. The industry could use some diversity training, and Uchis is the perfect woman for the job.
We can't wait to hear what Uchis comes up with next.