Kanye Just Released a Beautiful New Song About Kim Kardashian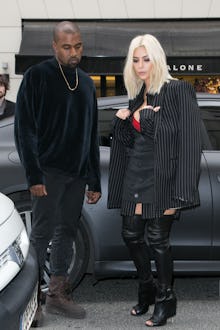 Late last night, Kanye debuted a new track called "Awesome," a tribute to his wife, Kim Kardashian. The sweet piano-led song features Kanye at his auto-tuned best, singing, "Baby you're awesome / You don't need to listen to your manager / You way too hot for them to handle ya." And in true Kanye form, he adds, "I'm also awesome / Ya'll know."
This album keeps getting better.
A live recording of the song surfaced in May 2013, when Kanye performed a version of "Awesome" at the Met Gala. At the time of the performance, onlookers assumed the song would show up on June 2013's Yeezus. But "Awesome" is unlike anything on Yeezus; Kanye held out on this one. And between this and "Only One," it's looking like this will be his sweetest album in a long time. He's certainly back to rapping about the family themes that marked early works like College Dropout.
There's no official word yet whether "Awesome" will appear on his forthcoming album, So Help Me God. But it is of a piece with the joyful new material he's been releasing. No matter what, we're glad to have it.
h/t Spin