Here's the Hidden Message Behind Kendrick Lamar's Bold New Album Cover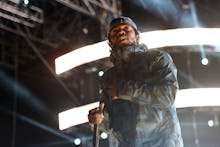 In Kendrick Lamar's still-young reign as one of hip-hop's leading voices, he's tackled institutionalized racism, black self-love, addiction and the evils of materialism. But what he posted to Instagram Tuesday night might be his boldest political statement yet.
In the middle of the night Tuesday, Kendrick Lamar shared what is almost certainly the cover of his new album To Pimp A Butterfly. It's bold, and it fits with everything Lamar has shared from the album, which is going to be a bombshell of political and social criticism.
The photo depicts a mob of black men flaunting champagne bottles and stacks of hundred-dollar bills on the White House lawn, crouched over the body of a white judge with his eyes X'd out. The "Parental Advisory" sticker gives the photo some added weight. Its title — previously thought to be "[Untitled]," as listed in the iTunes store — is the all-caps Instagram's text: To Pimp A Butterfly. 
Unpacking the themes. Kendrick has thus far been vague about what the album's title and graphic mean. He told the Rolling Stone in a feature released Wednesday that the meaning of the album's title "will be taught in college courses someday." As the Independent points out, it seems "possibly a play on To Kill A Mockingbird, a book about an innocent black man being arrested for a crime he didn't commit." 
The figure of the dead white judge in the foreground is a clear nod to our justice system's racial bias, which Lamar has addressed explicitly many times since Ferguson. But while the photo fantasizes of hip-hop's victory over a racist institution, the absurdity of the celebration also seems to pass judgement on those who see violence as a possible path to victory.
The photo is possibly another example of Lamar's belief that black community needs to reassess its own values before it can hope to see an end to institutionalized racism. Discussing the numerous instances of racially-motivated police brutality in 2014, Lamar told Billboard: "I wish somebody would look in our neighborhood knowing that it's already a situation, mentally, where it's fucked up. What happened to [Michael Brown] should've never happened. Never. But when we don't have respect for ourselves, how do we expect them to respect us? It starts from within. Don't start with just a rally, don't start from looting — it starts from within."
Rappers Kid Cudi and Azealia Banks both immediately lashed back on Twitter, calling out the way he placed the "blame" on the black community.
But it isn't that simple. Lamar is both a culturalist and a structuralist. He believes that aspects of black culture produces disrespect and also that American society is endemically racist. But Lamar's view of race and racism in this country is nuanced, and his single, "The Blacker the Berry," proves that his album is going to tackle some massive questions.
Again and again, he terms himself a hypocrite. He uses the song to paint a picture of the conflicting views and mentalities that exist in the black community. The first and second verses detail Kendrick's experience with "the generational effects of poverty, racism and discrimination," arguments for structural racism. While the third verse reprises the theme of his Billboard culturalist comments: "So why did I weep when Trayvon Martin was in the street? / When gang banging make me kill a nigga blacker than me? / Hypocrite!"
Michael Chabon, Pulitzer Prize-winning author of The Amazing Adventures of Kavalier and Clay and Telegraph Avenue, helped unpack the complex lines with a verified annotation on Rap Genius. "Here, Kendrick Lamar reveals the nature of the enigmatic hypocrisy that the speaker has previously confessed to three times in the song without elaborating: that he grieved over the murder of Trayvon Martin when he himself has been responsible for the death of a young black man," he writes. "This revelation forces the listener to a deeper and broader understanding of the song's 'you,' and to consider the possibility that 'hypocrisy' is, in certain situations, a much more complicated moral position than is generally allowed, and perhaps an inevitable one."
Hypocrisy in portrait. The album's cover seems then to a be an illustration of the hypocrisy Lamar is drawing attention to. It's both a seething criticism of the structural racism endemic in this country and of the culturalist argument Lamar believes, too. This album will boldly try to merge the two.
It's some some extremely heavy food for thought. And this is only the beginning. Kendrick's new album is bound to spark more conversations and controversy when it drops on March 23. The way Lamar's collaborators have framed it: "It's just him expressing how he's feeling at the moment," producer Mark "Sounwave" Spears told Rolling Stone, "And right now, he's mad."