There's Finally a Way to Ditch Those Letters on Your Keyboard for Emoji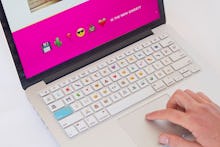 Your goal of writing the next great American novel using only emojis just got one step closer to reality.
Disk Cactus, an art and technology studio based in Oakland, California, recently launched a Kickstarter to fund their dream project: a silicone keyboard cover that features different emojis printed on the keys. It's an appropriate endeavor for the company, whose name is actually just the disk and cactus emojis.
What is it, exactly? The cover isn't just for show. You'll also download an installer, which functions similarly to the emoji keyboard on an iPhone; you can still type normally, but hitting the Caps Lock button now allows you to toggle between letters and emojis. 
It looks like this: 
And works like this: 
Once activated, the keyboard lets you choose from more than 150 emojis. Though only a single character appears on each key, you can access different emojis using the shift, control and option keys. 
"Once you explore a bit, you will quickly memorize the locations of your favorite emoji characters," the Kickstarter page explains. "The printed keys are your hieroglyphic guide."
It comes in two sizes, and for now it only works with Apple products — MacBook Pros and MacBook Airs made in 2010 or after, and wireless Mac keyboards made after 2007. It also protects against liquid and crumb spills, which means that following that hallowed piece of advice — "Write drunk, edit sober" — is still possible.
Just think: It may soon be easier than you ever thought possible to be like Aziz Ansari, who once replaced all the lyrics for Jay-Z and Kanye West's "Ni**as in Paris" with emojis:
Or this wonderful Instagram user, who typed out the plot of the cinematic masterpiece Spring Breakers in emojis, or any of these beautiful geniuses. Think of the possibilities!
Or you can always just send a lot of eggplant emojis, like the mature adult you are.
Whether or not you use the keyboard, one thing is for sure: The age of emojis is here, and it's here to stay. What was once a fun add-on in text messaging has become a part of our conversational lexicon, replacing everything from dictionary words to nebulous emotions. 
And understandably so. A picture is worth 1,000 words, after all — hence the move from Twitter and Facebook to Instagram and Snapchat. The rising popularity of emojis mirrors society's increasing fixation on evocative imagery-as-communication. 
So, if this keyboard cover takes off, does that mean emojis will transcend text messages and move into email, or even online journalism? One can dream.