Tina Fey Will Never Host 'The Daily Show' — and That's a Good Thing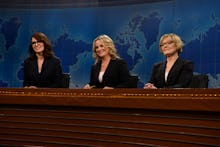 Could Tina Fey host The Daily Show? Judging by headlines over the past few days, not only could she, but everyone thinks she should.
"A New Poll Shows Tina Fey Should Host The Daily Show," the Huffington Post declared.
"You Want Tina Fey To Host The Daily Show," NewsOK told readers.
"America Wants Tina Fey to Host The Daily Show," Out trumpeted.
How did so many news outlets suddenly decide that Fey, the massively successful writer, actress and producer of 30 Rock and Unbreakable Kimmy Schmidt, was unquestionably the right choice to replace Jon Stewart? It's all thanks to a poll conducted by Quinnipiac University and released Monday, wherein Fey was an overwhelmingly volunteered response to the question, "Who would you like to see replace Jon Stewart on The Daily Show?"
The poll question asked which person should replace Stewart, then gave six options: Fey, Chelsea Handler, John Oliver, Craig Ferguson, Brian Williams and Dennis Miller. All "I don't know" or "not available" answers were placed under an umbrella category — one that earned 37% to Fey's 19%, in fact. Yes, technically Fey received the most votes among named options on the poll, but with the high undecided group, that result is neither definitive nor compelling. 
Why did this poll resonate in the media, then?
Because it represents a huge shift for late night TV. It's great to see this much enthusiasm for a female host of The Daily Show. After all, late night remains remarkably male, even after the most recent round of replacements — Stephen Colbert in for David Letterman, James Corden in for Craig Ferguson, Larry Wilmore in for Colbert. 
America choosing Fey over men like Ferguson, Williams, Miller and Oliver is a good sign. If it's not gonna be Fey, at least this indicates a desire for a female voice on a prominent late night show.
On the other hand, those are not the most compelling options. Miller's brand awareness among younger viewers isn't great, as can be seen by only 9% of poll respondents 18 to 34 voting for him. Ferguson's brand awareness is bad across the board. Oliver has a popular show of his own, just now in its second season. Williams is not a comedian and is dealing with a fabrication scandal. Fey, on the other hand, has great brand awareness — she's one of the most popular figures, male or female, in comedy. She sat behind Saturday Night Live's "Weekend Update" desk for years, so she's familiar with the satirical news format. This was an easy poll for her to win.
But the poll isn't asking the right question: "Who would you like to see replace Jon Stewart on The Daily Show?" Putting aside that Stewart's impact on late night is irreplaceable, it also presumes that The Daily Show should continue without Stewart. That's debatable.
In most cases where the show name isn't linked to its host, the name stays the same (The Tonight Show, The Late Show, etc.), whereas shows like Chelsea Lately, The Colbert Report and others retire the name when new hosts sign up. Theoretically, The Daily Show falls into that same category. But one could argue Stewart has been so influential in crafting the show's modern form — original host Craig Kilborn's Daily Show looked very different, less political satire and more a traditional talk show.
Even if the name is the same, the new host could radically reinvent the show as Stewart did. Fey's former "Weekend Update" co-host Jimmy Fallon brought a fresh take to The Tonight Show when he took it over last year, eschewing traditional long interviews for sketches and games with guests. But merely plopping someone else down at that desk, trying to step right into Stewart's shoes? That's guaranteed to fail.
Not only will Tina Fey never host The Daily Show, she shouldn't.
Not only will Fey never host The Daily Show — she shouldn't. Whoever hosts the show next will need to reinvent. But so far, we've been talking about the wrong candidates, as seen when The Daily Show correspondent Jessica Williams resisted calls for her to take the chair. 
Fey is a terrific talent; writing and producing shows like Unbreakable Kimmy Schmidt is a great use of her skills. A late night talk show would be a terrible one. It would be a step down for her career-wise and not one that makes much sense. Why go from producing and writing passion projects, with the occasional guest hosting gig on SNL or the Golden Globes, to working every night on a show that isn't quite your lane?
Fey will be better off without The Daily Show and vice versa. Whether The Daily Show continues, the program that airs at 11 p.m. Monday through Thursday on Comedy Central should look much different this time next year. Hopefully, it can find a host who knows exactly what it will look like.