The First Trailer for the Kurt Cobain Documentary Is Here — And It Looks Incredible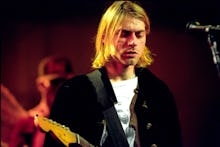 Lots of filmmakers have tried to capture Nirvana frontman Kurt Cobain, but none have done it quite like this. Wednesday, HBO released the trailer for the upcoming Cobain documentary called Montage of Heck. The film, which will air May 4 on HBO, has earned rave reviews since it premiered January at Sundance Film Festival. It's being billed as the first "fully authorized" Cobain documentary. And the trailer makes it clear that this will be a documentary unlike anything else.
Cobain was the tortured lead singer and songwriter in the legendary '90s grunge band Nirvana. He helped usher in a new era of punk rock, releasing "Smells Like Teen Spirit" and "All Apologies" — the two songs covered in the Montage of Heck trailer. In 1992, Cobain married Courtney Love, and the two had a daughter, Frances Bean, the same year. The circumstances surrounding Cobain's early death are still murky; he died at 27 from an apparently self-inflicted gunshot wound. 
Montage of Heck comes 21 years after Cobain's death. The name of the documentary comes from a mixtape of the same name that Cobain recorded before Nirvana released their first album, Bleach. 
The film was directed by Brett Morgen, whom the New York Times once referred to as the "mad scientist" of documentary filmmaking. And the executive producer of the project is none other than Cobain and Love's daughter. That the executive producer is so close to the project's subject ensured never-before-seen video and a 12-minute previously unheard acoustic track from Cobain.
The documentary promises to be the most personal look at Cobain the world has ever seen. And that is something remarkable indeed.
h/t Gothamist