This Is the Identity of the Most Mysterious Man in Pop Music Right Now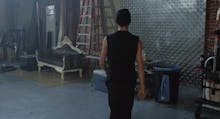 Big Machine Records, the label behind Taylor Swift's mammoth success, put a new song by a nameless artist into Top 40 radio rotation last month. Titled "Goodbye," the track is dramatic, infectious and, in the vein of Lana Del Rey and Ryn Weaver, a calculated mystery. That's because the label is keeping the identity of the hitmaker a secret — his name is Who Is Fancy? and the label has yet to push any images of him. 
It's one of the biggest mysteries in pop music right now. Produced by Scooter Braun (Justin Bieber's manager), Dr. Luke (megahit songwriter) and Scott Borchetta (Swift's label boss), the song and artist are being hyped with one of the most aggressive social media campaigns in recent memory. But Fancy's identity is actually not hard to find. Who Is Fancy is almost certainly a Nashville-based songwriter named Jake Hagood. And, when people discover who he is, he's going to be huge.
The mystery: His face is not in any of the publicity materials. Four music videos have been released for "Goodbye," none of which feature him. The song, for its part, is catchy — sung by some cherubic tenor about a rocky breakup over the cello, handclaps and organ that mark a good dramatic springtime and summer jam. It's racked up 1.3 million plays on Spotify since Feb. 10 and seems destined to be an early contender for the song of the summer. 
The music videos all toy with the identity of the mystery man. One features a slew of beautiful people with the lyrics over their mouths, and the three others feature a typecast actor representing, presumably, those excluded from the traditional pop landscape — a transgender person, an overweight person and a tattooed person — being made-up and outfitted for a video shoot.
A brilliant social media campaign: He's simultaneously one of the most engaged and most reserved pop stars on the scene. Who Is Fancy has expertly maintained Twitter, Instagram, Vevo, Tumblr and Facebook accounts, all wreathed with selfies of (again, beautiful) people captioned "#IAmFancy because [blank]." 
But who is Fancy actually? The idea, of course, is that anybody can be a pop star and We Are All Fancy. But that's just not true: The angel voice on "Goodbye" clearly belongs to a single, talented human. All signs point to Hagood, the extant Nashville musician who was scrubbed from the Internet. Here's why:
Borchetta first hinted at signing a country-pop crossover artist named Fancy at last year's iHeartRadio Fest, which of course meant nothing until some Internet sleuths did what they do best. As Time reports, a PulseMusic administrator had been keeping tabs on Hagood since Borchetta mentioned him in an interview years ago. His research led him to an old Web article that listed Hagood's influences as Beyoncé, Adele and Jessie J as well as old recordings, mentioned by Time, that have since been pulled.
Furthermore, an anonymous Wikipedia sleuthster points out that Hagood's well-intentioned sister posted a video of him covering Robyn on Ellen DeGeneres' Facebook wall in 2012, referring to him as Jake "Fancy" Hagood. The video is gone, but the post remains:
And finally, if you buy "Goodbye" on iTunes, "Fancy Hagood" is listed as a composer:
All this is more or less definitive proof of Hagood's identity. He's come a long way since his pre-mystery days, but early footage of him reveals the same powerful voice:
This, likely, is the face of the faceless man, culled from a wholly unscientific Google search:
Big Machine is making a bold play by attempting to launch him faceless. Their strategy is anybody's guess. It could be a nod to the days when you had to go to a show to visualize an artist or a play on millennial narcissism — what's more marketable than a band everybody can join? But more than likely, it's a way for Big Machine to erase country singer Jake Hagood and create pop musician Fancy — a feat that took a media frenzy and platinum album for Swift to accomplish.
There's no telling whether Hagood will reveal himself once "Goodbye" inevitably climbs into the Top 40, but expect to hear it many more times before the year's end. Hagood's star — mystery or not — is only rising.