Ahead of 'To Kill a Mockingbird' Sequel, Harper Lee's Treatment Under Scrutiny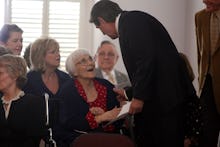 Controversy over Go Set a Watchman, author Harper Lee's spiritual sequel to To Kill a Mockingbird, has flared up once again. Now it's not just online writers and neighbors concerned that Lee's lawyer and publisher are taking advantage of her — it's the state of Alabama. And the state's action is one that HarperCollins needs to take seriously.
From the New York Times (emphasis added):
Responding to at least one complaint of potential elder abuse related to the publication of "Watchman," investigators interviewed Ms. Lee last month at the assisted living facility where she resides. They have also interviewed employees at the facility, called the Meadows, as well as several friends and acquaintances.
A doctor who knows Lee but has not treated her told the Times he filed an anonymous complaint because he was concerned about her care after her sister's death. State investigators from Alabama's Human Resources Department and the Alabama Securities Commission are working together in the investigation.
As the Times notes, launching this investigation at all — considering elder abuse complaints are investigated on a case-by-case basis, not automatically — "highlights the scrutiny" about the publication of the book ahead of Watchman's July 14 release date. Just four months from the release, an investigation into whether the author was abused is hardly the press of publicists's dreams.
Of course, this isn't the first mention of said scrutiny. Right after the book was announced — more than five decades after To Kill a Mockingbird's publication — questions arose about Lee's capacity to consent to publishing Go Set a Watchman. 
Interviews with publisher Jonathan Burnham did nothing to assuage concerns. Everyone smiled and promised Lee was incredibly involved in the process ... yet no one actually spoke with Lee except her attorney, Tonja Carter, who found the manuscript. The news quickly inspired calls to cancel publication of the book.
Publication is inevitable. With as much advance buzz as there's been for Watchman, there's no avoiding it — the book is coming out. Assuming Burnham, Carter and company have been honest about Lee's involvement, the investigation won't turn up any malfeasance. But the best course of action would be to delay publication indefinitely. This will give the investigation time to wrap up, and for HarperCollins to come up with a proper course of action to assuage potential readers's concerns about Lee's consent.
Bringing Go Set a Watchman into the light of day should be a cause for celebration. But pushing it towards a set publication date at the expense of a clean promotion process will do nothing but taint excitement — and To Kill a Mockingbird's legacy.