In One Quote, Madonna Sums Up Everything Wrong With How We Talk About Rape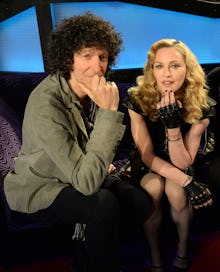 "It's just not worth it. It's too humiliating."
Pop icon Madonna nailed it Wednesday morning when describing why people often don't seek help, especially from the police, after being sexually assaulted or raped.
In an interview for Sirius XM's Howard Stern Show, the 56 year-old Rebel Heart songstress narrated the events leading up to her rape at age 19 during her first year in living in New York City. Madonna has talked about the assault before, perhaps most explicitly in her 2013 op-ed for Harper's Bazaar, in which she wrote she was "raped on the roof of a building I was dragged up to with a knife in my back."
But this time, when asked by Robin Quivers why she didn't file charges with the police, Madonna gave a response encapsulating something many sexual assault survivors have felt: "I was told that if I wanted to press charges, [I had to submit to] a physical examination; I had to go before the court. They're gonna ask you all these personal questions," she said. "You've already been violated, so do you want to talk about it? ... It's just not worth it. It's too humiliating."
An epidemic of silence: Madonna's experience, which occurred in the late 1970s, echoes that of many survivors today. As Mic's Julie Zeilinger recently detailed, there are myriad reasons why survivors may not seek help after being attacked. These include having to confront skepticism, invasive questions, lack of physical evidence and even potential financial debt if they decide to press charges. It is not surprising that, according to RAINN, 68% of all rapes go unreported.
What is particularly disheartening is that the feelings of defeat and fear that Madonna had in 1977 are so similar to those of women in 2015, as reflected in current reporting statistics. Like many survivors, particularly those shamed or guilted into taking responsibility for their rape, Madonna intimates that she was young and naive for "trust[ing] everybody," half-jokingly pointing to her Michigan roots as the origins of her friendliness, which, within the frame of her guilt, she construes as stupidity. 
Madonna's comments rightly suggest that sexual assault and rape survivors need more support from the criminal justice system, as well as other organizations that advocate against gender-based violence. Her experience, unfortunately, shows that little has changed for women in nearly 40 years.
Listen to the full interview here:
Source: Soundcloud