Here's When You Can See 'Star Wars: Episode VIII' — and Everything Else We Know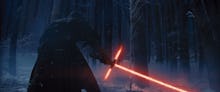 The Star Wars universe is getting even more expansive.
Disney announced at their annual shareholders meeting Thursday that the eighth episode of the epic space opera will be in theaters May 26, 2017. Rian Johnson, director and writer of Looper, will take on the same duties in helming this project. 
Before that sequel, fans will have their first chance to see Star Wars' seventh installment, The Force Awakens, on Dec. 18. But Disney and Lucasfilm aren't letting the franchise lay low between those entries. Also announced to investors Thursday is a spinoff film — titled Rogue One — that will star Oscar nominee Felicity Jones with a Dec. 16, 2016 release date.
Rogue One, directed by Godzilla helmer Gareth Edwards, is the first entry in Disney's plan to make as much use of the Star Wars property as possible after acquiring it with Lucasfilm for $4 billion in 2012. Another planned spinoff, with Chronicle director Josh Trank attached, is in development, according to Variety.
Jedis, assemble? The move to announce new films in the franchise even before The Force Awakens debuts is reminiscent of Marvel Studios' strategy. (Marvel is also owned by Disney.) In October 2014, the comic book giant announced their next slate of films ahead of the upcoming Avengers: Age of Ultron. If the strategy works — and with a passionate fanbase like Star Wars' it's hard to imagine it failing — it could open more of Disney up to the ambitious, sprawling scheduling tactic.
Perhaps, in light of the announcement of Frozen 2, an Arendelle cinematic universe is ahead?