With One Amazing Quote, Pussy Riot Sums Up What Every Punk Fan Feels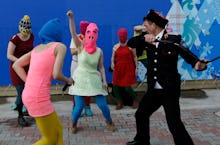 The feminist punk rock collective Pussy Riot is the most influential punk act of the past decade. More than any other band right now, Pussy Riot expresses the true spirit of punk — partially because they can barely play their instruments. And one quote from them perfectly sums up what that spirit means.
As they told Jenn Pelly of Pitchfork last month:
"A punk is someone who knows how to ask the world uncomfortable questions and does everything possible to make sure the world can't cop out of answering those questions. A punk is a person who lives and breathes astonishment. Astonishing other people and astonishing yourself — that's what art is for us, and without art, life can't exist. It would be too boring."
Pussy Riot has lived this philosophy through and through. They captivated the world with their performance of a "punk prayer" in Christ the Savior Cathedral in Moscow. They later described it as a "fun song" on the Colbert Report. That show was a brilliant mix of pranksterism and political critique, with the girls appealing to a nearby icon to "drive away [Russian President Vladimir] Putin!"
The performance led to the imprisonment of three of the group's members: Masha Alyokhina, Nadya Tolokonnikova and Yekaterina Samutsevich. While it did not bring an end to Putin's administration, their demonstration brought global attention to the brutality of the Russian government's attempts to silence its opposition. The publicity has afforded Pussy Riot a vital platform to continue reminding the world what punk is all about.
When Alyokhina and Tolokonnikova were released from prison in December 2013, they were international celebrities. They immediately began trying to reform the horrors they witnessed. "Punk culture has taught us that to be moderate and restrained is not always the correct choice," Tolokonnikova said at the fifth annual Women in the World Summit, according to Pitchfork. "When your intuition is telling you that the time has come to leave behind your moderation, do it!" 
That's precisely what they've been doing. In March 2014, the pair created a prison-reform NGO called Zona Prava (translation: "Law Zone"). According to the organization's website, it provides legal services and information for prisoners, all while systematizing information about Russian prison colonies to increase the transparency of that system. Transparency is a huge goal for the group: On Sep. 4, 2014, Pussy Riot took that mission a step further by launching the independent media organization MediaZona. 
"Since our release from prison six months ago, we've felt that Russian media are no longer able to cover what is going on," Tolokonnikova said, according to a press release. "Because of the heavy censorship by authorities, there is no space for anything in the media that criticizes Putin's policies and tracks human rights abuses by Russian courts and law enforcement. Courts, prisons, arrests, convictions, riots in facilities, political criminal cases, crimes by law enforcement officials — our new media outlet will try to cover it all."
Though a media institution may not seem so punk, the pair actually feels that this foray into media and advocacy is a natural extension of the punk mission. "A punk is always ready to rethink the idea of what is normal, and again, first and foremost, rethink their own ideas," they told Pitchfork. "And if you need to use institutions to make sure the world doesn't cop out, we're going to use them."
Unfortunately, Alyokhina and Tolokonnikova's steadfast dedication to prison reform has caused a rift between them and the rest of Pussy Riot. In February 2014, the collective disowned the pair for "[forgetting] about the aspirations and ideals of our group — feminism, separatist resistance, fight against authoritarianism and personality cult."
Yet this hasn't discouraged Alyokhina or Tolokonnikova from using the name. They insist that they're still part of the group and have used the name to promote their projects. Their most recent outing saw them broadening their political scope far beyond Russia with a video for the song "Don't Cry Genocide," which they debuted on House of Cards. The pair also acted in the episode, giving a fictionalized Russian prime minister, clearly based on Putin, an epic middle finger in the form of a satirical toast.
Alyokhina and Tolokonnikova also debuted their first English language song, "I Can't Breathe," under the name Pussy Riot in February. Offered as a tribute to the late Eric Garner, a victim of American police brutality, the song ends with New York punk legend Richard Hell — who many have asserted "invented punk rock" — reciting Garner's last words.
"It felt weird to speak the words of a black man killed by the police, when I'm this privileged white guy," Hell told Pitchfork. "At the same time, I believe in Pussy Riot. I have faith in them. I think they're for real. [...] The experience really persuaded me of their righteousness. It's a privilege to contribute this minuscule amount to what they're doing, which is devoting their lives to getting justice for people who are oppressed, who are suffering."
Punk is more than music: Though they will likely continue releasing songs, the group has never really been about the music. "It's no secret that our music is so-so, but it was not our goal to create good music," Tolokonnikova said at a music industry conference in Tallinn, Estonia. "We use the principle of bad art, bad rhyme and bad music. The idea was as simple as a tank: Everyone has to have an access to music and we talk about it constantly. Anyone can be Pussy Riot."
This has always been the true DIY spirit of punk. As long you're pissing someone off or challenging social, political or artistic norms, then you're winning. Anyone can be Pussy Riot — anyone can be punk.