This Transgender Teen Activist Just Landed Her Own TV Show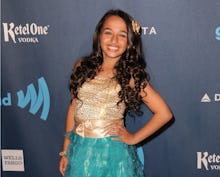 Media narratives of trans lives have been on the rise in recent years. Now, one new show will offer another important view of what it means to be trans — this time, from a teenager. 
14-year-old trans activist Jazz Jennings has been tapped by TLC for an upcoming reality series titled All That Jazz. Jennings, a young author and star of the documentary I Am Jazz: A Family in Transition, will be followed by cameras once again as she navigates high school and faces the joys and tribulations of young adulthood.
As an opportunity to increase public understanding of trans youth, the show comes at an important time. According to the 2011 report of the National Transgender Discrimination Survey, 78% of trans or gender nonconforming youth reported feeling harassed at school, which correlates with higher rates of drug and alcohol abuse and mental illness. And with news of trans teen suicides making headlines in early 2015, the visibility created by the show could also help more trans youth feel accepted.
As The Hollywood Reporter notes, All That Jazz will also feature other members of Jenning's family, including her parents, who have been both supportive of her and vocal about the difficulties she sometimes encounters.
Shortly after Jazz's book was released last fall, her mother, Jeannette, told the Houston Chronicle that "trans kids are like other kids," but added that children at school treat her daughter differently because of who she is. 
"[A] lot of times Jazz sits at lunch in school and people move away from her. She's still a human being. I'm hoping kids will embrace that," she said. "Let's get to them before they hear the negativity, and it won't be a big deal ... It isn't wrong to be transgender. Being unique is pretty cool."
As Oakland-based comedian Red Durkin, who created the hashtag #RealLiveTransAdult, told Mic in January, "We need people to take us seriously, to see our struggle, and to work within their own homes and communities to eradicate the antipathy for trans people that still lingers in our culture."
Ultimately, time will tell how the show depicts trans lives. But unlike the current media fiasco around Bruce Jenner's alleged transition, All That Jazz is an opportunity for the American public to get a non-sensationalized account of what it means to be trans.
It's an opportunity to get one more voice in the mix: a trans person telling her story on her own terms.