This Is the Definitive Proof That Katy Perry Is a Living Legend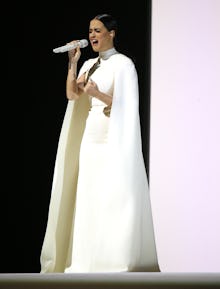 Stardom did not come easily for Katy Perry. In 2001, she was a little known gospel artist under her given name, Katy Hudson. Then, she was dropped twice by major music labels Island and Columbia, losing her break again and again. It wasn't easy, but in 2015, well into a legendary career, Perry has received the ultimate confirmation that she's become one of the greats.
Billboard announced on March 6 that Perry's album Teenage Dream had entered its 200th week on the Billboard 200, putting her in the company of only 25 other illustrious albums in the history of the chart. Not only that, but that album also makes her the only woman ever to have five No. 1 singles from the same album on the Billboard Hot 100. 
Her years of struggle paid off — Perry is officially pop royalty. 
It's been a long road. Before she was Katy Perry, she was the minister's daughter, Katy Hudson. One of three kids raised in a staunchly religious, fire-and-brimstone house, Perry began singing at church. At 13, she persuaded her parents to bring her to Nashville to pursue a career as a gospel singer; at 16, she recorded her first album, Katy Hudson, on a small Christian label. In an interview with the Hollywood Reporter recounting her youthful struggle, she said what she really wanted was pop stardom. 
So, one year later, Perry dropped out of high school and moved to Los Angeles. In 2003, she signed to Island Records, but they dropped Perry soon after. In 2004, she signed to Columbia Records, where she recorded a full-length album that was shelved. Then she was dropped again.
She persisted, though. She sang at open mic nights in Los Angeles, according to the Hollywood Reporter, wrote songs at Hotel Cafe and worked at a tiny independent A&R firm to make money. She was scrimping to pay her bills, bouncing checks, missing car payments. 
But when she signed to Capitol Records in 2007, everything changed. Perry exploded onto the scene like whipped cream. Her breakthrough single, "I Kissed a Girl," became the dance-floor banger of 2008 and somehow managed to make cherry Chapstick cool. The same year, Perry's first album, One of the Boys, debuted on Capitol. The single off that album, "I Kissed a Girl," cemented her spot as a pop phenom, and stayed at No. 1 on the Billboard Hot 100 for seven weeks.
It seemed impossible to top. That's where Teenage Dream comes in, though. Perry released Teenage Dream in 2010 and proved that she was more than a one-album act. Less than a year after its release, the album had spawned four No. 1 hits — "Last Friday Night (T.G.I.F.)," "Teenage Dream," "Firework" and "E.T." — a feat that had last been accomplished by Usher in 2004. 
They weren't standard pop songs either. Indie musician and composer Owen Pallett devoted an entire column to dissecting "the genius" of the record's lead single; four years after its release, "Firework" figured prominently in The Interview. These songs refuse to fade — much like Perry herself. They're songs that reveal her to be far more than a typical pop star. She had a hand in writing every song on the album, and each one clearly bore her mark.
2015 has been a fine year for Perry. She headlined the Super Bowl, giving the world the gift that keeps on giving: left shark. She also delivered the most momentous performance of the Grammys. But this latest news is, quietly, her most important accomplishment. It shows that, in an industry marked by trends and short attention spans, she has somehow managed to transcend. 
"It's mind-boggling to consider that Perry has followed Michael Jackson's commercial trajectory on multiple albums now," Billboard wrote in January, "on the commanding Teenage Dream, and then the huge-if-not-quite-enormous success of Prism."
Perry is already a living legend, and she's on track to being one of the best there ever was.