An Eagle With a Camera Flew Around Dubai — And the Result Is Breathtaking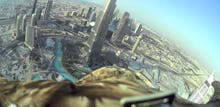 It's not every day you set a world record while capturing beautiful video of one of the Middle East's most fascinating modern cities.
The Freedom Conservation teamed up with Darshan the Eagle on Saturday to set a record for the highest recorded bird flight from a man-made structure. Equipped with the very small Sony Action Cam Mini, Darshan took off from the top of Dubai's Burj Khalifa, which, at 2,722 feet, is the tallest building in the world.  
Take a look:
Though almost any flight from a bird's eye view is something to behold, the fact that Darshan was flying through Dubai's impressive modern architecture from such a huge height makes it all the more breathtaking.
How else will you to get a view like this?
The bird of prey eventually dropped into a sudden free fall before gently landing on trainer Jacques-Olivier Travers' arm. 
"Darshan is a male Imperial Eagle with a wing span of two meters," Travers, who is also the founder of Freedom Conservation, told Gulf News. "He is a very powerful bird, which is necessary as he is donning a 300g camera on his back."
Darshan has completed similar flights from the Eiffel Tower in Paris and St. Paul's Cathedral in London.
Aside from giving us amazing footage and setting a tough-to-beat world record, Freedom Conservation organized the flight to raise awareness for threatened wildlife like endangered birds of prey, many of which are on the International Union for Conservation of Nature Red List of Threatened Species. Past flights caught the attention of the Dubai Crown Prince's office, which invited the group to Dubai to record the flight and bring attention to the importance of protecting wildlife in urban areas.
"We know that people love these types of videos. It's a great way for us to attract the public's attention to endangered animals and to the fact that humans need to learn how to share their space with these animals," Ronald Menzel, Freedom Conservation's director, told NBC News.
The Freedom Conservation has already seen success reintroducing birds such as the White-Tailed Eagle back into the wild, but the group's efforts in the Middle East are especially important. As RT points out, during hunting season in the Gulf states, "royal families from Saudi Arabia, Qatar, Bahrain, Kuwait and the UAE" are particularly interested in the rare bird species.
And if you're wondering exactly what 2,722 feet down looks like, the Freedom Conservation has got you covered: