St. Louis Police Make Arrest in Connection With Shooting of Two Ferguson Police Officers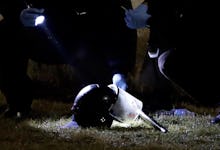 Police have made an arrest in the shooting of two police officers at a protest early Thursday morning outside police headquarters in Ferguson, Missouri, officials said Sunday afternoon.
The St. Louis County Police Department tweeted out the news:
At a press conference Sunday afternoon, St. Louis County prosecuting attorney Robert McCulloch announced that Jeffrey Williams, a 20-year-old African-American man, was being charged with two counts of assault and other charges. He is being held on a $300,000 bond. 
Williams is in custody and admitted to firing the shots, police say. Williams reportedly "acknowledged his participation" in the shooting, but at this time, it's not entirely clear whether the officers were the intended targets — it's possible Williams had other intended targets. 
Officials said Williams, a demonstrator present in the area Wednesday night, may have been involved in a dispute with people in the area and fired at them and inadvertently hit the officers. Williams is from the nearby northern St. Louis area. It's believed he was acting alone, though the investigation will continue to confirm.
McCulloch also thanked the public and community at-large for helping police solve the case. 
The shooting left two police officers — a 32-year-old seven-year veteran from the St. Louis suburb of Webster Groves and a 41-year-old 14-year veteran — wounded, one with a bullet lodged in his head. Both officers recovered and were released roughly nine hours after the shooting, according to NBC News. 
Shortly after the shooting, the St. Louis County police launched a full manhunt and pursued several leads. 
During an appearance Thursday on Jimmy Kimmel Live!, President Barack Obama said, "There was no excuse for criminal acts, and whoever fired those shots shouldn't detract from the issue. They're criminals. They need to be arrested."
The shots rang out early Thursday morning, hours after Ferguson Mayor James Knowles announced police Chief Tom Jackson would resign, partially in light of the damning Department of Justice investigation which found that, "black residents of Ferguson were subjected to 93% of arrests and 85% of traffic stops between 2012 and 2014, despite making up just 67% of Ferguson's total population," reported Mic's Greg Krieg.