Elton John Had the Perfect Response to Dolce & Gabbana's Anti-Gay Comments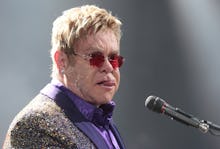 As it turns out, just because you're gay doesn't necessarily mean you believe in gay rights. 
In a recent interview with Italian magazine Panorama translated by LGBT News Italia, fashion designers Domenico Dolce and Stefano Gabbana said, "The only family is the traditional one. No chemical offsprings and rented uterus: life has a natural flow; there are things that should not be changed."
According to Spanish website ABC.es, Dolce continued on saying procreation "must be an act of love [...] I call children of chemistry, synthetic children. Uteri [for] rent, semen chosen from a catalog."
"The family is not a fad," Gabbana added. "In it there is a supernatural sense of belonging."
As the Advocate notes, Dolce is a practicing Catholic, while Gabbana has publicly spoken out against same-sex marriage in the past. 
In response to their comments, social media took up the hashtag #BoycottDolceGabbana, which soon caught the eye of music legend Sir Elton John, who posted a direct and poignant message on his Instagram account.
That message reads:
"How dare you refer to my beautiful children as "synthetic." And shame on you for wagging your judgemental little fingers at IVF - a miracle that has allowed legions of loving people, both straight and gay, to fulfil their dream of having children. Your archaic thinking is out of step with the times, just like your fashions. I shall never wear Dolce and Gabbana ever again. #BoycottDolceGabbana"
John is absolutely right. With firsthand experience raising two sons with his husband David Furnish, the Grammy-winning musician made a strong statement against two men whose thinking is entirely behind the times. And not only are John's words biting and powerful, but with such a huge name boycotting the brand, it may actually make a major dent in the fashion house's business.
John joined the thousands of others taking to social media to express their distaste in what Dolce and Gabbana said and stand for:
While these kind of bigoted statements are unfortunately still a part of the current conversation, the fact that the hate speech is coming from two gay men makes their words even worse.
"It's quite outrageous that two gay fashion designers who have relied on the gay community for much of their success are opposing gay equality," gay rights activist Peter Tatchell told the Guardian. "They're lining up with the Pope and the far right in their support for legal discrimination."
Perhaps with all that money, Dolce and Gabbana forgot what it means to be a normal person, or maybe they think they can buy their way past homophobic discrimination. But for the millions of other gay men and women around the world who face constant discrimination for being who they are, the fashion designers' words are nothing but hateful garbage. 
Luckily, for every well-known bigot who speaks out, there are plenty more, like Sir Elton, who are ready to fight back and stand up for equal rights. 
Late Sunday, the duo responded to the fast-growing controversy in a statement reading, "We believe firmly in democracy and we think freedom of expression is essential for that. We talked about our way of looking at the world, but it was not our intention to express a judgement on other people's choices. We believe in freedom and love."
Updated: March 15, 2015, 5:48 pm
h/t the Advocate