Stunning Photos Show the Massive Protests Sweeping Across Brazil Right Now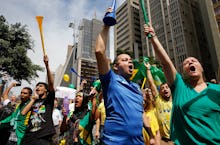 Hundreds of thousands of protesters took to the streets of cities across Brazil this weekend, demanding the resignation or impeachment of President Dilma Rousseff only a few months into her second term.
In Rio de Janeiro, an estimated 15,000 protesters were on the streets by 11 a.m., while 20,000 organized in Belo Horizonte, reports the Guardian. In the capital of Brasilia, there were 50,000 reported protesting outside Congress, while an additional 40,000 showed up at Ribeirão Preto in São Paulo state.
Overall, 200,000 demonstrators were spread out across 60 cities.
The Guardian reports that the right-wing protests against Rousseff's government focused on alleged corruption within the state-run oil company, Petrobras, as well as the "moribund economy" and "political constipation." 
The Petrobras scandal, described by prosecutors as Brazil's largest corruption scandal in history, has expanded to involve an expected 54 separate investigations that involve 21 federal deputies and 12 senators. According to Time magazine, the scandal involves alleged overpayments to contractors in exchange for bribes; some of the bribe money likely ended up in bank accounts belonging to the Brazil Workers' Party, of which Rousseff is a member. 
One former Petrobras executive admitted to accepting $100 million in bribes and estimated that the political party ended up with nearly twice that. All told, NPR reports that dozens of politicians have been implicated, including "the heads of both houses of congress and half of the congressional ethics committee."
Rousseff's administration has run into additional obstacles such as a failing economy and devalued currency, as well as an ongoing drought. Towns and cities across Brazil were forced to scale back or cancel their plans for Carnival, an annual festival that normally attracts the attention of countless vendors and advertisers.
Here are some amazing shots of the protests across Brazil:
Brasilia
Sao Paulo
Rio de Janeiro
According to Al-Jazeera, there were also counter-demonstrations in favor of the government.
"We're all here to defend Petrobras from those who are using the corruption scandal to demoralize and privatize it," unionized metalworker Natael Mendes told Al-Jazeera. "This is something we do not accept and will fight to prevent it from happening. ... The scandal must be investigated and those guilty must be punished. But it cannot be used to justify the destruction of Petrobras."